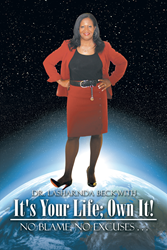 The life you live today will set the stage for the kind of life you ultimately would like to have
Dallas (PRWEB) February 18, 2015
When it comes to self-improvement and future plans, there seems to be a myriad of reasons why something can't be done. How would people change if they started saying yes to their life goals, instead of taking a passive approach to life?
For LaSharnda Beckwith, maintaining a successful, ideal life is possible through responsibility, direction and empowerment. In her new book, "It's Your Life; Own It!", Beckwith shares the necessary tools and helpful advice for achieving goals, despite professional and personal obstacles.
Beckwith pulls from her more than 25 years of experience working for the Army and Air Force Exchange Service, as well as a career in teaching and business ownership, to share tools for personal growth and living in an active, motivated manner.
"I have experienced everything you can imagine related to being pushed aside and feeling marginalized," Beckwith said. "But, I still excelled because I continued to polish my skills and work towards my goals."
"It's Your Life; Own It!" combines the importance of commitment with a Christian perspective. The focus on Biblical principles inspires self-reflection and change that starts with a positive attitude and clearly defined purpose.
"How you think is how you live," Beckwith said. "The life you live today will set the stage for the kind of life you ultimately would like to have."
For more information, visit http://www.beckwithleadership.com or bookstore.authorhouse.com.
"It's Your Life; Own It!"
By Dr. LaSharnda Beckwith
ISBN: 97814969495233
Available in softcover
Available on Amazon, Barnes & Noble and AuthorHouse
About the Author
Dr. LaSharnda Beckwith retired from the federal government with several years of experience in management, training and development and human resources. She is the CEO of two companies, Beckwith Leadership Consulting Group and Professional Christian Women in Service. She is a monthly contributor to Wordsmith Journal and is a radio talk show host for Living Happy Every Day. Beckwith currently lives in Grand Prairie, Texas, with her family.
# # #