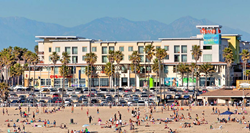 DALLAS, Texas (PRWEB) February 17, 2015
Cypress Equities announced today the acquisition of The Strand, a 96,000-square-foot mixed-use development located in one of the U.S.'s most popular beach communities, Huntington Beach, Calif. This transaction was secured by a fund managed by Cypress' real estate investment management group, which has acquired more than $500 million dollars of retail properties during the past two years.
The Strand was constructed in 2008 and is made up of four buildings situated in the heart of "Surf City USA." It boasts a dynamic tenant lineup, including Rip Curl Surf Shop, Skechers, ANGL, Crocs, RA Sushi, Forever 21, Johnny Rockets, CVS Pharmacy, Active Ride Shop and Bruxie Gourmet Waffle Sandwiches.
"Cypress Equities is excited to add The Strand to our portfolio of properties," stated Todd Minnis, managing partner and CIO of the real estate investment management division of Cypress Equities, which acquired the property. "Although the property already showcases an impressive roster of successful retailers and restaurants, our team has plans to recreate the overall experience to develop a more unique impression that integrates with the community and connects with the lifestyle of Huntington Beach."
The Strand is located adjacent to the world-famous Huntington Beach Pier, benefitting from the 11 million annual visitors to the area. Huntington Beach hosts annual, high-profile events including international surf, skateboard and BMX competitions. In addition, the downtown Huntington Beach corridor has recently experienced tremendous growth. The city features a population of nearly 200,000 with well above-average household incomes, 8.5 miles of picturesque beaches and the distinction of being one of the nation's safest cities.
About Cypress Equities
Cypress Equities* (Cypress) was founded in 1995 by Chris Maguire and has since established a national reputation synonymous with the premier development, operation and management of destination-class retail and mixed-use properties throughout the U.S. Historically, Cypress has developed and acquired more than 18 million square feet and currently is developing and managing a portfolio of more than 9.4 million square feet of retail, office, residential and automotive real estate. Today, there are five Cypress Equities offices throughout the U.S., including Dallas (headquarters), New York, San Francisco, Atlanta and Fort Lauderdale. Visit http://www.cypressequities.com for more information.
*The Cypress Equities name, logo and other marks are trademarks and service marks being licensed to independent operating companies by CE Brands, LLC. Any particular obligation, service or product is the sole responsibility of the specific entity that incurs such obligation or supplies such service or product.