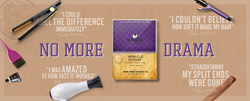 Miracle Repair™ offers women damage control that replenishes, rebuilds and renews, allowing them to begin to undo the hurt they've done to date" says Kimberly Hairston, Chief Marketing Officer of Dr. Miracle's
New York, NY (PRWEB) May 15, 2015
Over the course of a lifetime, the average woman devotes 294 days to styling her hair, with a majority of that time spent unintentionally damaging her hair. From blow drying to curling, to coloring and straightening, the styling damage builds up leaving hair dull, shedding or lifeless. Dr. Miracle's, a leader in healthy hair care has launched Miracle Repair™, a 3-step reconstructive system that instantly rebounds hair from damaging color, relaxer, and thermal appliances.
This weekly beautifying treatment system formulated for all hair types and textures gives hair magnificent shine and intensive moisture. However, this is no ordinary hair therapy product. Miracle Repair™ is powered by DuoCare Technology™, a complex-based protein that penetrates the hair's cortex to rebuild it from the inside and boosted by anti-oxidant rich Extra Virgin Coconut Oil, which rapidly penetrates and fills the hair shaft making hair look fuller with more body. The 3-step system includes a No Lather Conditioning Shampoo, the DuoCare Reconstructor and the Intensive Moisturizing Masque.
"Many women traumatize their hair trying to get a certain look, but then they maximize it because their hair is so overworked. Miracle Repair™ offers women damage control that replenishes, rebuilds and renews, allowing them to begin to undo the hurt they've done to date" says Kimberly Hairston, Chief Marketing Officer of Dr. Miracle's
Miracle Repair™ can be used in conjuction with all Dr. Miracle's styling products to ensure a perfect finish. Miracle Repair™ retails for $5.99 and is currently available at mass market stores and fine beauty supply stores nationwide. For more information or to purchase online, please visit: http://www.drmiracles.com/miracle-repair/
About Dr. Miracle's
Dr. Miracle's is the leader in healthy hair care treatment solutions, from root to tip. Manufactured with key ingredients to enhance hair health, Dr. Miracle's caters to the needs of relaxed, natural and those transitioning to complement their individual, #AuthenticBeauty. The award winning Dr. Miracle's line can be found in Walgreens, Walmart, Sally Beauty, Target, Cvs, Duane Reade and beauty supply stores nationwide.
Connect With Dr. Miracle's:
Facebook: facebook.com/drmiraclesfans
Twitter: @DrMiracles
Instagram: @DrMiracles