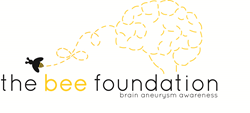 Philadelphia, PA (PRWEB) February 18, 2015
The Bee Foundation is a Philadelphia based non-profit organization dedicated to raising awareness of brain aneurysms and supporting innovative research that saves lives. The Bee Foundation has announced its first call for medical research grants. The Foundation will award $50,000 to proposals directed at novel and innovative approaches to the early detection and prevention of brain aneurysms. The Foundation's medical research grant program encourages research proposals focused on a variety of disciplines (including but not limited to translational neurosciences, neurosurgery, neurology, radiology and genetics, among others).
In its first year, The Bee Foundation raised more than $120,000 through ongoing sponsorships, donations and its annual gala, The Honey Bash, held in Philadelphia in September 2014.
"We are particularly excited at the potential of interdisciplinary research to deliver results through testing innovative approaches across a number of medical disciplines, "said the Foundation's Chief Medical Officer, Dr. Patricia Henwood. The Foundation's Scientific Advisory Board, whose members include Henwood, Dr. Michael Chen of Rush University Medical Center, Dr. Shazam Hussain of The Cleveland Clinic, and Dr. Monisha Kumar of Hospital of the University of Pennsylvania will be working with Foundation Co-Founder and Executive Director Christine Doherty Kondra to review all applications.
"We are looking forward to awarding this year's grant to build a robust and dynamic brain aneurysm research community with our Scientific Advisory Board, donors and our applicants. Grant recipients will be supported by the Foundation and held accountable to advancing brain aneurysm research. They will be honored at our annual Honey Bash where they will present their research results," said Kondra. Kondra founded The Bee Foundation along with her sister, Erin Doherty Kreszl, and was inspired by their cousin, Jennifer Sedney, who died December 25, 2013 at the age of 27 from a ruptured brain aneurysm.
The $50,000 in grant money may be awarded to more than one applicant, and will be announced in May, 2015. Recipients will be honored at the upcoming 2015 Honey Bash Gala on September 19, 2015 and will present their research findings at the 2016 Gala.
Grant applicants can apply through the Foundation's website. Applications will be accepted until April 22, 2015, and the awarded grant(s) will be announced on May 20, 2015.
To find out more about the work of The Bee Foundation, as well as how to support the Foundation with a tax deductible contribution, visit the Foundation's website or contact info(at)thebeefoundation(dot)org.
About The Bee Foundation
The Bee Foundation is a 501(c)(3) non-profit organization whose mission is dedicated to raising awareness of brain aneurysms and supporting innovative research that saves lives. Information on the Foundation can be found at http://www.thebeefoundation.org, or on the Foundation's Facebook page. Also visit us at Twitter and Instagram.