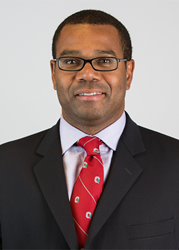 I am so proud to guide the next chapter of Keystone's growth
Memphis, Tenn. (PRWEB) February 19, 2015
In his new position, Dr. Pyke will provide clinical direction and oversight to all of Keystone's existing and future Hospital Medicine programs and providers. Keystone's clients will benefit tremendously from Dr. Pyke's proven history of building high-performing, well-managed HM clinical practices designed to seamlessly collaborate with hospital imperatives. As a seasoned career Hospitalist, Dr. Pyke is an innovator in creating alignment and a functional culture with all hospital based clinical services, positively impacting patient flow, patient experience and satisfaction.
"Dr. Pyke will lead and develop our Hospital Medicine Programs and play a key role in helping Keystone continue to innovate, align and integrate our HM services with our EM services in order to achieve improved hospital performance," said Glenn Adams, President of Keystone. "He will be a tremendous asset to our clients and providers, and play a major role in Keystone's future successes!"
Dr. Pyke completed his Doctor of Medicine at The Ohio State University College of Medicine and Public Health in 1997 and completed an Internal Medicine residency at Pennsylvania State University College of Medicine in 2000. Dr. Pyke is Board Certified in Internal Medicine and a Senior Fellow, The Society of Hospital Medicine. He is a former member of SHM's Ethics and Non-Physician Provider Committees and also served as a Faculty Facilitator for SHM's Leadership Academy. Dr. Pyke currently serves as an Editorial Board member and contributor to Today's Hospitalist Magazine, contributes to The Hospitalist, and will be serving SHM in the coming year on the Practice Management Committee.
"I was drawn to Keystone because of their dedication to patient quality and safety in addition to the overall physician-friendly atmosphere," stated Dr. Pyke. "Hospitals want to partner with Keystone because Keystone truly owns the hospital's metrics—there is no Keystone success without the hospital success. Even more, Keystone strongly supports their physician leaders, by allowing them the space, time and resources to truly lead. I am so proud to guide the next chapter of Keystone's growth – the HM division."
"Dr. Pyke is a winner, a consummate professional and a cherished member of our Team," stated Andrew Portelli, CEO. "Keystone will continue to win with Dr. Pyke."