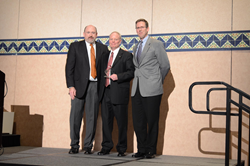 A surprised Richter comments, "This is quite an honor! My family dedicated everything to the business and I share this award with all our long standing team members who believed in us! Thank you Generac, as this for everyone at Energy Systems!"
(PRWEB) February 18, 2015
Generac Industrial Power recently awarded Don Richter of Energy Systems with their first-ever 40 Years of Distinguished Service Award. As a family business dating back to 1933, Don is the 3rd generation of the Richter family to lead and ultimately expand Energy Systems and its growth. In 1974, the family added Generac Generators to their product line, beginning a valued and trusted relationship while also building a loyal customer base.
Don Richter retained ownership of Energy Systems until 2013, when Worth Investment Group, owned by Mr. Eric Boorom, acquired the company. With his vast experience, knowledge and respect from professionals in the industry, Don continues his tenure as a member of the leadership team at Energy Systems. A surprised Richter comments, "This is quite an honor! My family dedicated everything to the business, and I share this award with all our long standing team members who believed in us. Thank you Generac, as this for everyone at Energy Systems."
As a testament to his reputation of providing customers with excellent products and service in the generator industry, Richter was the first recipient of this new Generac Industrial Power Systems Award.
About Energy Systems
Energy Systems, headquartered in Stockton, CA, and one of the longest existing distributors of Generac Industrial Power Systems, provides generator sales, service, rentals and parts to Northern CA, Hawaii, Nevada, Washington and Oregon and Alaska.