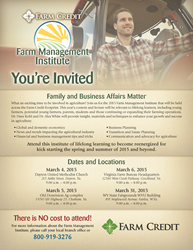 (PRWEB) February 18, 2015
The 2015 Farm Management Institutes (formerly known as the Young Farmer Institutes) will kick off in March. The day long workshops which will include a FREE meal and countless networking opportunities will encompass the following topics:

Global and domestic economics
News and trends impacting the agricultural industry
Financial and business management tips and tricks
Business Planning
Transition and Estate Planning
Communication and advocacy for agriculture
Hope to see you at one of the following locations from 9:00 a.m. – 4:00 p.m.:
Wednesday, March 4th, 2015: Dayton United Methodist Church
215 Ashby Street Dayton, VA
Thursday, March 5th, 2015: Old Dominion Ag Complex
19783 US Highway 29, Chatham, VA
Friday, March 6th, 2015: VA Farm Bureau Headquarters
12580 West Creek Parkway, Goochland, VA
Tuesday, March 31st, 2015: WV State Fairgrounds WVU Building
891 Maplewood Avenue, Fairlea, WV
To RSVP, please contact local branches or call 800-919-3276
Farm Credit of the Virginias provides over $1.5 billion dollars in financing to more than 10,000 farmers, agribusinesses and rural homeowners throughout Virginia, West Virginia and western Maryland. Farm Credit is a cooperative capitalized largely through investments made by farmers, ranchers and the rural homeowners and businesses that borrow from them. Farm Credit helps maintain and improve the quality of life in rural America and on the farm through its constant commitment to competitive lending, expert financial services and for facilitating and sharing knowledge and resources through the Farm Credit Knowledge Center. For more information, visit http://www.FarmCreditKnowledgeCenter.com or http://www.FarmCreditofVirginias.com.