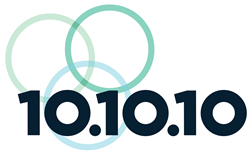 Denver, CO (PRWEB) February 18, 2015
Ten successful CEO-entrepreneurs from around the country will tap into their experience and creativity to explore market-based solutions to childhood obesity, Alzheimer's proliferation, biologic terrorism and other monumental problems as the first-of-its-kind 10.10.10 initiative gets underway here Monday.
10.10.10 is a groundbreaking effort that brings together 10 proven CEO-entrepreneurs from around the country for 10 days to tackle 10 "wicked" problems. The goal is that the entrepreneurs will come up with viable solutions that could be the genesis of one or more startup companies.
The Denver program is focused on wicked problems in health. It is powered by the Colorado Health Foundation and will be known as 10.10.10 Health.
"By bringing ten proven entrepreneurs together for ten days and supporting them with 20 validators – people, organizations and corporations who understand the market – we harness and channel the power of the entrepreneur," 10.10.10 founder Tom Higley said. "We expect to help some of these entrepreneurs turn their 'next big thing' into a much bigger and better thing than they could have imagined."
In a video statement welcoming the participants, Bryan Sivak, the U.S. Department of Health and Human Services' chief technology officer and entrepreneur-in-residence, expressed support for 10.10.10.
"The U.S. health and health care systems that have lagged behind or maybe even been resistant to entrepreneur-driven innovation are at a critical inflection point," Sivak said. "The needs are great, and this is more important than ever before.
"Despite the complexity of some of the challenges within the realm of health and health care," he said, "there's nothing but opportunity to think differently and to bring innovative ideas to the forefront."
The Colorado Health Foundation has partnered with 10.10.10 Health as part of its work to actively engage the private sector in efforts that will improve the health of Colorado.
"Wicked problems, like rising rates of childhood obesity, affect all Coloradans, especially those individuals and children living on low incomes," said Kelly Dunkin, the Foundation's vice president of philanthropy. "10.10.10 provides a venue to bring together successful entrepreneurs and health experts to offer a new perspective on how to address the barriers that keep many of us from achieving better health. Not only are we hoping for solutions, but we also want to ensure those solutions address the health needs of all Coloradans."
Other organizations and people involved include Kaiser Permanente Colorado, the California HealthCare Foundation, the Rose Community Foundation, the Breakaway Group, venture capitalist Esther Dyson and entrepreneur Brad Feld.
The 10 problems the participants could tackle are:

Alzheimer's
Childhood Obesity
Patient Engagement
Antibiotic Resistance
End of Life Care
Pandemic Weapons and Bioterrorism
Patient and Data Matching
Health Guide Maps
Health Data
Patient Mobility and Independence
CEO-entrepreneurs are free to choose any of these problems. It's not guaranteed that each of these problems will be addressed.
The 10 participating entrepreneurs are:

Frank Ricotta, Denver, Colorado: Frank is managing partner of BurstIQ and a former CTO and CEO of multiple companies.
Maurice Herbelin, Sacramento, California: Maurice, an MBA and medical doctor, was a UnitedHealth Group medical director.
Joy Randels, Bradenton, Florida: Joy is the founder and CEO of New Market Partner, a technology company accelerator.
Monique Giggy, Palo Alto, California: Monique is the co-founder and president of the mobile golf app Swing by Swing Golf and was an advisor to Women's Startup Lab.
Zackary Lewis, Denver, Colorado: Zackary, a former Marine, founded Liquid Compass, a radio streaming company.
Lizelle van Vuuren, Denver, Colorado: Lizelle is the founder and CEO of startup marketing company Effectively as well as the founder of the organization Women Who Startup.
Craig Misrach, San Diego, California: Craig was the founder and CEO of medical device company Freedom Meditech.
Kelly O'Neill Dwight, Denver, Colorado: Kelly is the president and principal consultant of KMD Consulting Services, which focuses on new businesses.
Cheryl Kellond, Boulder, Colorado: Cheryl is the co-founder and CEO of Bia Sport, a sports watch company.
Lincoln Powers, Billings, Montana: Lincoln was founder, CEO and chief data architect of Rocky Mountain Technology Group.
The CEO-entrepreneurs will present their ideas on Thursday, Feb. 26.
More information on 10.10.10, including the schedule, can be found: http://101010.net/
About 10.10.10
The world is full of wicked problems and big opportunities. 10.10.10 brings together 10 proven CEO-entrepreneurs to work over 10 days to tackle 10 "wicked problems" – problems that, if solved, can lead to a few extraordinary, fundable startup companies that provide market-based solutions.
Founded by Colorado entrepreneur Tom Higley, 10.10.10 helps connect startup communities to thought leaders, entrepreneurs and investors throughout the country.
The first 10.10.10, Feb. 16 – 26 in Denver, focuses on health.
For more information, visit http://101010.net/.
About the Colorado Health Foundation
The Colorado Health Foundation works to make Colorado the healthiest state in the nation by ensuring that all Colorado kids are fit and healthy and that all Coloradans achieve stable, affordable and adequate health coverage to improve their health with support from a network of primary health care and community services. To advance our mission, the Foundation engages the community through grantmaking, public policy, investing in evaluation, private sector partnerships and strategic communications. For more information, please visit http://www.ColoradoHealth.org.