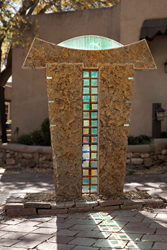 I like the dynamic "living" quality of my kinetic sculpture - animated, undulating surfaces of light and color - quiet one minute and alive and bursting with energy the next.
Santa Fe, New Mexico (PRWEB) February 20, 2015
"Into The Wind" at Pippin Contemporary will be a showing of Greg Reiche's powerful new body of kinetic glass sculpture. For this one-man show, Reiche has created dynamic and poetic works that draw upon two basic energetic forces of nature prevalent in our natural southwestern environment: solar and wind power. Reiche integrates these elemental forces into iconic, evocative forms crafted from traditional sculptural materials of stone, metal, and glass. The show will run from May 20th through June 2nd, with an opening reception on May 22nd from 5-7pm at Pippin Contemporary.
Reiche's sculpture ranges from monumental site-specific work to small tabletop pieces, both of which will be exhibited for "Into The Wind." Stone and metal contribute a sense of timelessness, strength and solidity to his work, while reflective glass elements breathe life and energy into the static materials. Reiche's responsive glass tiles make invisible aspects of the environment visible to the viewer, reflecting air movements as well as subtle changes in light and shadows. These basic sculptural elements transcend time and culture, and together create enduring and powerful works of art.
A native of New Mexico and current Santa Fe resident, Reiche has worked in a variety of mediums from ceramics to furniture design, but in the last twenty years has narrowed his artistic focus to sculpture. His site-specific work has been commissioned for public and private installations across the country, and he was recently named the 2015 Honorary Artist for ARTsmart New Mexico. Every year, this arts education non-profit chooses a notable artist to work with local high school students on creative projects. Selected artists for this title are distinguished not only in New Mexico but also throughout the world. Reiche joins a roster of celebrated Honorary Artists including Agnes Martin, Roxanne Swentzel, Tom Joyce, and Rebecca Tobey. His experience working with young artists refreshed Reiche's creativity, which is sure to be reflected in his upcoming show.
For "Into the Wind," Reiche has combined gently undulating iridescent and dichroic glass with powerful metal and stone forms. This dichotomy brings together both the basic physical elements of nature as well as energetic forces. The glasswork is alive with moving color and light, while other elements of the piece are quiet, strong, and still. By harnessing forces of nature within these graceful forms, Reiche's sculptures become more than mere objects; they become experiences for the senses.
Pippin Contemporary, founded in May 2011 by artist Aleta Pippin, is located at the gateway to Canyon Road in Santa Fe, New Mexico. The gallery is committed to showing abstract art that is fresh and vibrant, as well as collectible. Pippin Contemporary artists, selected for their energetic and tactile approach, provide visitors with a "sensory experience of color and mood" through vivid portrayals of personal expression. Their work ranges from abstract acrylic and oil paintings to contemporary sculpture in stone, glass, and bronze. For more upcoming shows at Pippin Contemporary, visit http://www.pippincontemporary.com/events.