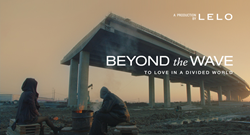 Designed and developed by LELO, PlayTogether™ takes people on a journey into the post-apocalyptic world of the Beyond The Wave movie, where each partner makes choices together on what scene to watch next.
Stockholm/San Jose, CA (PRWEB) February 18, 2015
Leading luxury sex toy brand LELO today released an extended interactive trailer for their upcoming movie Beyond The Wave starring Casper Van Dien; called PlayTogether™, this is the first ever trailer experience that can only be watched with a partner.
Designed and developed by LELO, PlayTogether™ takes people on a journey into the post-apocalyptic world of the Beyond The Wave movie, where each partner makes choices together on what scene to watch next. The exclusive experience synchs two smartphones together and even displays video across both of them, as part of the movie's wider message of helping couples' appreciate their partner's perspective, and bringing everyone closer together both physically and emotionally.
PlayTogether™ is not an app and doesn't require registration or a software download, and is available for free when visitors to Beyondthewavemovie.com share the theatrical trailer with friends or their partners.
Beyond the Wave is the first ever mainstream movie produced by a sex toy company, but the movie will not feature any sex toys nor any of LELO's luxury accessories, and instead portrays a post-apocalyptic, divided world that speaks to the value of relationships in all their forms.
In addition to a video interview with Casper Van Dien and the LELO team, Steve Thomson, Head of Marketing, explains: "Our goal with Beyond the Wave is to encourage couples to connect both with the story, and through the act of watching the movie itself. That's also the thinking behind PlayTogether™. It's meant as a fun way for people to get a sneak peak at the movie. It brings couples closer together and encourages them not merely to sit in the same room but to engage with each other's point-of-view and to spark a unique interaction."
"We hope this movie goes beyond what people expect from a sex toy company - to surprise and engage them in getting closer to their partner. At a time when the whole world is talking about 50 Shades, it's also worth remembering that physical connections will be even more satisfying if you invest time in understanding your partner's perspective."
The star of the movie, Casper Van Dien, added: "Beyond the Wave shows the importance of not only relying on yourself, of not just communicating or spending time with someone, but genuinely trying to understand your partner's perspective. So many arguments could be avoided, and so many relationships improved, if we just paused for a moment and put ourselves in our partner's shoes."
Directed by Goran Gajic (Babylon 5, Oz) and co-starring Emilie Ohana (Paris, Je t'aime) alongside newcomer Zhu Wei Ling, Beyond the Wave is set for release in Summer 2015. It follows one man's experience in a post-apocalyptic world where men and women choose to live apart. A chance meeting with the young Noria (Wei Ling) sparks an unforgettable journey for Jacques (Van Dien), one that shows him the importance of understanding his partner's point-of-view. On the surface it's a love story, but deeper than that, it's a reminder on how to enrich relationships in an increasingly individualistic and divided world.
How Does PlayTogether™ Work
LELO's PlayTogether™ experience offers a unique opportunity for audiences to explore its world in advance of the Summer 2015 movie release. Watching the extended trailer requires communication, cooperation and an appreciation that technology should sometimes give way to the human touch.
Requirements:

Two people
Two smartphones
A reliable internet connection (preferably wifi)
That's it!
Instructions:
1. Two people sit next to each other.
2. Both people grab their smartphones and go to http://www.beyondthewavemovie.com and click on PlayTogether ™
3. After unlocking the experience, one person clicks 'Start a journey'. They will be given a secret word to share with their partner. The other partner presses 'Join a journey', they'll need to enter the password they've been given.
4. Both phones will then synch, and the journey begins. There are 10 possible versions of the extended trailer, and the partners will need make choices together on what scenes to watch.
5. By selecting different options at different stages, the partners will gain access to movie snippets – at certain points they will even need to press PlayTogether™ to view the experience.
6. As partners progress through the trailer, they will feel themselves becoming physically closer, prompting a unique interaction that goes beyond the trailer itself.
To view the trailer and interactive experience, plus access exclusive interviews with the cast and crew, visit http://www.beyondthewavemovie.com. Plus keep up to date with all the movie news on the movie's official Facebook and Twitter accounts @BTW_MOVIE and @VoiceOfTheWave.
For more information contact PR(at)LELO(dot)COM
LELO is the world's leading designer brand for intimate lifestyle products. On launching in 2003, LELO transformed the look, feel and function of how personal massagers were perceived, and now applies the same commitment to quality and innovation through luxurious bedroom accessories and soy massage candles. LELOi AB is the Swedish company behind LELO, and also holds the PicoBong brand under the LELO group, where offices extend from Stockholm to San Jose, from Sydney to Shanghai.