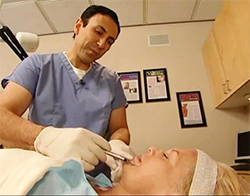 Los Angeles, CA (PRWEB) February 18, 2015
On February 11 2015, Harper's Bazaar Magazine posted an online article titled "7 Dermatologists & Plastic Surgeons Weigh in on Botox," that compiled the opinion of seven doctors on the age they believe it's appropriate for a patient to start Botox injections. The overall consensus was that treatments can start in one's later twenties, though most patients don't typically start getting Botox until they're in their thirties. (see: goo.gl/DCUY7O)
"I don't want to make any blanket declarations that no one younger than a certain age should get Botox," says Dr. Simon Ourian, Medical Director of Epione Beverly Hills. "Every patient is different. Twenty-three may be an appropriate age to start Botox for one patient and thirty-three may be appropriate for another."
According to the Harper's Bazaar Magazine article, Botox is FDA approved for use in patients 18 years of age and older. The surgeons interviewed generally held the line at age 25, below which they didn't believe there was much benefit to Botox injections because there are either no visible lines or the lines that are present are not permanent.
"As noted by one of the physicians, age is a factor but not necessarily the determining factor," says Dr. Ourian. "I also agree that by one's early twenties, a good skin care regimen that includes daily sunscreen use should be in place."
Dr. Ourian has been a pioneer in laser technology and non-invasive aesthetic procedures including Restylane, Juvéderm, Radiesse, Sculptra, and CoolSculpting. These treatments are used for the correction or reversal of a variety of conditions such as acne, acne scars, skin discoloration, wrinkles, unwanted fat, stretch marks, varicose veins, cellulite, and others. More information about Botox can be found on Epione's website.