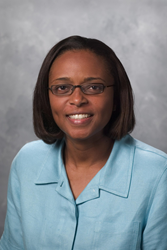 Athens, GA (PRWEB) February 17, 2015
Girl Scouts of Historic Georgia is proud to announce that Dr. Carla Williams has been selected as the 2015 Athens Woman of Distinction honoree. The luncheon event in her honor will be held Tuesday, May 12, 2015 at 11:30 a.m. at the Georgia Center. Tickets will be available for individual purchase for $75.
D.J. Shockley, former Atlanta Falcons quarterback and UGA player, will give the tribute to Dr. Williams.
The Girl Scouts Woman of Distinction award honors a woman who reflects the values in the Girl Scout Promise and Law and who serves as an excellent role model for girls. Dr. Williams, a four-year letterwinner at guard for the University of Georgia Lady Bulldogs basketball from 1985-89, as Carla Green, currently serves as Executive Associate Athletic Director and Senior Woman Administrator at UGA. Prior to returning to Athens, Dr. Williams worked as the Assistant Athletic Director and Associate Athletic Director at Vanderbilt University.
Dr. Williams is a graduate of the University of Georgia with a Bachelor's degree in Sociology and Master's in Public Administration. She received her Ph.D. in Sport Administration from Florida State University.
Dr. Williams and her husband Brian, have three children: daughters, Carmen and Camryn and son, Joshua.
Proceeds from the event will benefit Girl Scouts of Historic Georgia. Sponsorships are available. To find out more about becoming a sponsor or to purchase tickets, please contact Teresa Laird, Fund Development Manager, in the Athens office at 706-621-5979. For more information about becoming a member, volunteering, or making a donation, visit http://www.gshg.org.