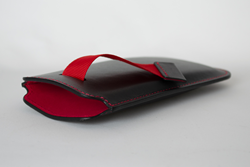 Every guy should be concerned about how radiation from his cell phone may impact his fertility...
London, UK (PRWEB UK) 18 February 2015
That cell phone in a guy's pocket may mean easy access when it comes to calling, texting or checking email but the radiation it produces may affect his sperm and potentially his fertility. Protect Your Boys, a new campaign launched by WaveWall, is intended to remind guys that every time their cell phone sits in their pants or shorts pocket it emits radiation, which migrates to their testicles and may adversely affect their fertility.
WaveWall is an innovative cell phone case for men that lowers the risk of radiation using a technology-infused lining that blocks radiation from reaching a man's testicles - and potentially zapping his fertility. In independent studies, WaveWall was shown to reduce mobile radiation SAR (specific absorption rate) by 85%.
WaveWall's patent-pending design incorporates a unique fabric made from metallic fibres that is layered between the leather and microfibre on one side of the case. The metallic fibres effectively dissipate the electromagnetic waves from a cell phone and direct them away from a man's genital area.
Because the shielding technology is only situated on one side of the case (the flat side without the tab), a cell phone in a WaveWall case can still receive and send data as usual.
Current statistics indicate that 1 in 25 men is affected by male infertility and 1 in 5 men between the ages of 18-25 presents abnormal sperm counts. Separate studies have suggested that radiation produced by cell phones may have an adverse effect on sperm, including a study published in 2014 in Environment International. That study used nearly 1,500 sperm samples and concluded that exposure to mobile phones may impact the viability of sperm.
"Every guy should be concerned about how radiation from his cell phone may impact his fertility, particularly if he wants to father children someday," says Harry Gardiner, Managing Director of WaveWall. "Male infertility is a devastating reality for a lot of men. The Protect Your Boys initiative is intended to educate men on how cell phone radiation poses a risk and what they can do to minimize their risk. WaveWall is one effective option for them to consider."
Men who are using WaveWall say they appreciate having greater peace of mind knowing that potentially damaging cell phone radiation is less likely to reach their testicles.
"It's important to me to block cell phone radiation because I keep my phone in my pocket for 7-8 hours a day," said Pratham Shetty, of India.
The WaveWall cell phone case is made with genuine leather and comes in a variety of colors. For more information on the Protect Your Boys campaign, the link between cell phone radiation and male infertility, how to order a WaveWall cell phone case, or sign up for the mailing list, visit http://www.wavewallcases.com. WaveWall can also be found on Facebook, Twitter, and YouTube.
WaveWall was founded in 2014 and is a subsidiary of Lime Creations Ltd, headquartered in the UK.