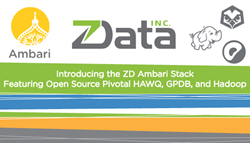 San Francisco, CA (PRWEB) February 17, 2015
With Pivotal's announcement to open-source their data suite products - zData has released easy deployment options with Ambari for HAWQ and GPDB. This is the first time an enterprise class MPP database has been provided to the open-source community giving organizations an easy entry point to try its high query performance and scalability. Whether on Amazon or your local co-lo with the help of Ambari, companies and enterprises can quickly deploy and start testing data immediately without any upfront on-prem hardware of software licensing costs. In addition customers are encouraged to install zData's free distribution of open-Chorus,a collaboration tool designed to help your organization leverage these and other big data technologies.
zData provides Big Data consulting and solutions for both commercial and enterprise corporations, employing experts in all areas of the field from software engineers to data scientists. They work with top hardware and software providers for on-site and off-site consulting, managed services, trainings, and long term scalable data solutions. Contact zData to learn more about our Ambari projects.