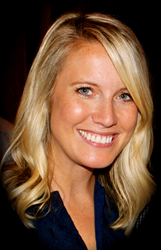 WASHINGTON, DC (PRWEB) February 23, 2015
BigTeams, the fastest growing and most comprehensive website, scheduling, mobile app and software system for high school athletics programs, today announced Paige Keffer as its Vice President of Business Development. Keffer assumes her new role after serving in marketing and digital advertising roles at Octagon and AOL. Based in the Northern Virginia technology corridor, BigTeams originally launched its web platform in 2006 and now has clients in 50 states using its innovative website, mobile app, scheduling software, fundraising, booster club, and fan interaction platforms.
"As a former high school and collegiate athlete, and most recently a coach, I'm well aware of how much high school coaches and administrators rely on software technology to manage their athletics programs," Keffer said. "I'm excited to represent to brand marketers such a desirable and hard-to-reach audience of high school student-athletes, coaches, parents and administrators."
BigTeams has experienced rapid growth since April 2014 and now has more than 4,300 official high school athletics clients in 50 states and Canada. The McLean, VA, based company is the official software of The National Federation of High Schools (NFHS), with technology that provides scheduling, roster management, scores, game articles, photos, school merchandise and statistics for athletic departments across the country. The new BigTeams mobile responsive platform launched in September 2014, and the company is currently experiencing record traffic. Digital advertising inventory on the BigTeams platform has more than tripled year-over-year, and BigTeams has signed marketing and promotional deals that include The National Guard and Anthem, among others.
Paige Keffer most recently served as a Client Marketing Manager for AOL Platforms, the technology arm of AOL. Previously, Keffer was at Octagon, one of the largest integrated sports marketing agencies in the U.S., where she served as an Account Manager in the talent procurement division. Keffer is a graduate of the University of California, Berkeley, and has a Master's Degree in Sports Management from Georgetown University.
About BigTeams
BigTeams develops the most advanced high school athletic websites and software available in the marketplace. The BigTeams software platform includes industry-leading administrative tools, including scheduling, real-time scoring, player stats, roster management, mobile apps and volunteer management systems. The BigTeams platform also helps high school athletics programs generate revenue through features such as local online ad sales, photos, e-commerce, mobile apps and more. In December 2014, BigTeams acquired Schedule Star, a company that has been providing scheduling software to high school athletic programs since 1964, from Gannett/USA TODAY Sports.
# # #
Contact:
Clay Walker, CEO
Clay(at)bigteams(dot)com
202-957-5319