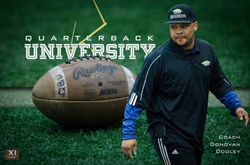 Hersey, MI (PRWEB) February 18, 2015
Middle-school youth from across Michigan will participate in a weekend-long training experience focusing on position specific coaching, motivation, and decision-making on and off the field. Coaches will receive instruction on training techniques, teambuilding, establishing success and recognizing when a player needs help.
"Bringing position-specific and character-building training to kids who may not have role models or support systems is our goal. We want them to walk away from this clinic with skills on the field and guidance for their lives," said Donovan Dooley, #9 ranked quarterback coach in the nation, according to Bleacher Report.
The Victims2Victors Football Clinic will be available to players and coaches on a first-come, first-served basis. Experts such as Donovan Dooley, Sudan Ellington, Paul Engel, Kevin Townsend and more will be on-hand to provide training and instruction to coaches and youth. The Victims2Victors Football Clinic will also feature select speakers and Eagle Village's expert staff presenting engaging information about sports, character and the bigger picture for young players.
This training clinic will be held April 17-19, 2015. Athletic directors and coaches interested in more information about this clinic are welcome to contact Eagle Village directly at 231-832-7242 or visit https://eaglevillage.org/training-clinic/