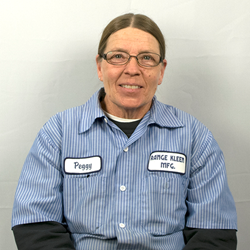 Lima, OH (PRWEB) February 19, 2015
Peggy Patton has been an associate of Range Kleen Mfg., Inc. for the past 7+ years, hired on November 05, 2007 as an Order Technician. As an Order Technician Peggy processed outbound orders to clients and consumers. Her upbeat personality and tact for detail quickly evolved into interning with the Quality Control Coordinator and became a backup in 2010. Peggy's precise and diligent efforts as a backup gained the experience to move into the next position as Quality Control Technician in July 2014.
As of February 02, 2015 Peggy now oversees the Quality Control Department. In her current role as Quality Control Coordinator Peggy will continue her efforts in ensuring quality of parts and products coming into and out of Range Kleen Mfg. Our goal in Quality Control is that the product and parts meet or exceed the expectations of our customers. Peggy's hard work and determination to show initiative has made her a huge asset to the company. Peggy's take care of the customer attitude has propelled her to grow within the company which allows for continuous improvement of quality in processes and procedures.
About Range Kleen Mfg., Inc.
Range Kleen Manufacturing, Inc. is a Lima, OH based company manufacturing household products sold to major retail chains globally and has been taking care of the customer (TCOTC) since 1971. Its product divisions include: Original Equipment Manufacturing Quality (OEM) replacement drip pans for ranges & stoves; Non-stick Metal Bakeware; Kitchen Decorative products specializing in exclusive licensed designs; Storage, Organization, insulated food and beverage bottles and household cleaning supplies. Range Kleen Introduced their own line of cookware- Stainless Steel and Enameled Cast Iron as well as pot racks in 2007.
Effective December 21, 2009, Range Kleen Manufacturing was pleased to announce the partnership with Berndes Cookware USA and has taken the lead of all sales, marketing and shipping of Berndes Cookware USA from their International Headquarters in Lima, Ohio.