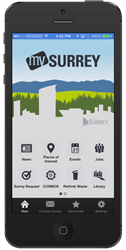 The Top 7 distinction given to us is fitting as the City of Surrey has been at the forefront in our use of digital technology to foster economic, social and cultural opportunities. - Mayor LInda Hepner
Surrey, British Columbia (PRWEB) February 18, 2015
The Intelligent Community Forum, an organization that studies the economic and social development of the 21st Century community recently named the City of Surrey as one of the Top 7 Intelligent Communities in 2015. Noted as part of the cities' Smart Surrey Strategy is the use of mobile applications, including the recently released My Surrey application developed by Purple Forge.
"As the most rapidly growing city in the region, investing in technology and innovation is crucial to building a city that is ready for the challenges of the future," said Mayor Linda Hepner. "The Top 7 distinction given to us is fitting as the City of Surrey has been at the forefront in our use of digital technology to foster economic, social and cultural opportunities."
Purple Forge, the leading provider mobile applications to all levels of government in Canada, provides the mobile application services for the City of Surrey including the My Surrey application, which has been written into the Smart Surrey Strategy as a convenient alternative for residents to engage and interact with the city. The app acts as a portal for all Surrey apps and also includes features such as service request reporting, new, events, facility locations, job lists, bike routes and parking.
"As the lone Canadian city in the top 7 list, Surrey's progressive technology strategy makes it stand out not only in Canada, but now the world," stated John Craig, VP Sales and Marketing of Purple Forge. "We are proud to be a part of their current strategy and look forward to helping to contribute to their continuing success."
About Purple Forge
Purple Forge sells subscription based services to organizations looking to engage their stakeholders using the latest mobile application technology and leveraging community engagement and social networking best practices. Purple Forge is an award-winning firm led by seasoned mobile communications and Internet technology veterans. Our mobile applications allow organizations to broadcast, share, and receive feedback from their target audience real-time, allowing them to foster long-term, engaged relationships.
Contact: John Craig, john(dot)craig(at)purpleforge(dot)com
About the City of Surrey
Surrey is the 2nd largest city in BC and the 12th largest city in Canada with a population of over 468,000. And we're still growing. We're set to become the most populated city in Metro Vancouver by 2020, as people from around the world continue to move to one of the youngest and most culturally diverse cities in Canada. - See more at: http://www.surrey.ca/3547.aspx#sthash.E1iCMcLG.dpuf