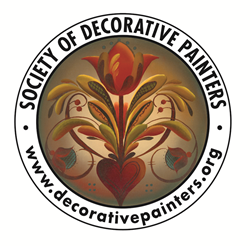 Wichita, KS (PRWEB) February 17, 2015
The Society of Decorative Painters (SDP) 43rd Annual Conference & Expo will be returning to the Pheasant Run Resort in St. Charles, IL from May 11-16, 2015. The SDP Conference & Expo is the must-attend event for painters of all skill levels and ages. It is the premier painting event to learn, grow, meet new and old friends, purchase painting supplies and just have fun.
This year's Conference features over 100 painting classes, representing oil, acrylic, watercolor, colored pencils, plus a variety of other mediums for all skill levels. Headlining this year's event is Conference artist, Chris Haughey who offers a fresh approach to design, color and layout though new mixed media projects and techniques. In addition, the Conference program offers a variety of special events where you can gather with friends and keep painting into the night.
The Expo will feature vendors selling a variety of paint supplies and finished goods, appealing to everyone including younger crafters, artisans and creative enthusiasts across the world. Shop the Expo for pattern packets, paper crafts, decoupage, painting surfaces, paint, frames and mats, mat-cutters, organizers, paper palettes, colored pencils, watercolor pencils, ink pens, chalkboard paint, nail art, calligraphy, new products, finished products and more.
"I am really looking forward to St. Charles and Conference 2015. We have great activities, something for everyone! In the past, whenever I was able to attend this event, it was the very highlight of my artistic year. It is fun to meet your fellow artists, rekindle friendships, expand your creative horizons with new teachers and do something special just for yourself. Please stop and chat with me or other board members," said Pat Marler, President, Society of Decorative Painters.
Visit http://www.decorativepainters.org to learn more about the SDP Conference & Expo, including a complete schedule of all programs and events, exhibitor listings, travel information, other Show highlights and to register.
ABOUT THE SOCIETY OF DECORATIVE PAINTERS
SDP is a membership organization with members throughout the United States, Canada, Japan and 42 other countries. It has 300 affiliated chapters that actively promote the art form through community service projects and other painting-related activities. SDP publishes the industry's leading decorative painting magazine, The Decorative Painter; and hosts one of the largest annual decorative painting conference and expo that draws worldwide artists. For more information, visit http://www.decorativepainters.org.