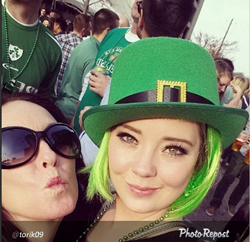 Seattle, Washington (PRWEB) February 17, 2015
Fadó Irish Pub will be the St. Patrick's Day epicenter in downtown Seattle not once but twice during the "Season of St. Paddy's." On March 17, the day itself, doors open at 7:30 a.m for "Kegs & Eggs," serving a special brunch menu through 11 a.m. Live music and entertainment will be featured as The Undercover Outlaws, The Kennedy Brothers and more take the stage. The Seattle Firefighter Pipe Band continue their annual tradition making appearances throughout the day. On March 14, or Parade Day, Fadó hosts brunch 'til 3 p.m. along with mimosa specials. European sports will be on, featuring 6 Nations Rugby ($20 cover) and English Premier League soccer, live music and signature Irish dishes.
St. Patrick's Day 2015 is not just a day at Fadó Irish Pub, its a season. Here's what to expect during Seattle's most anticipated St. Paddy's celebration this March:
International Firefighter Stair Climb Charity Event, Sunday, March 8, 4 PM- Firefighters from all over the world are visiting Seattle this weekend and will race to the top of the Columbia Tower to benefit The Leukemia & Lymphoma Society. As a continued sponsor, Fadó celebrates their charitable efforts, as well as the sacrifices they make every day, with good food and drink every year following the climb. Live Music with the Kennedy Brothers starts at 8:00 p.m. No cover. It's also the Sounders Home Opener and, as always, Fadó is your number one spot for pre-game, game viewing, and post game festivities.
Deluxe Irish Whiskey Tasting: A Tour of Midleton - Tuesday, March 10, 7 PM - Celebrate the pride of Ireland with a tasting night at Fadó. It started with Jameson but it didn't end there. The tasting features a wide range of over 10 products from the Midleton Distillery in County Cork with host International Whiskey Ambassador Greg Slattery. Tickets are $50 each and space is limited. Purchase your tickets early for this perfect preparation for St. Patrick's Day! Full Details and Tickets here.
Paddy's Day Super Pub Quiz with Guinness Blonde – Wednesday, March 11, 6:30 PM - Find out if you're Irish, Irish-heritage or Irish wannabe at this all-Ireland pub quiz. Drink specials will be offered and prizes will be given - including a $250 cash jackpot. Teams must be comprised of eight or less members, and reservations are suggested. Call 206.264.2700 to reserve your spot.
St Baldrick's Charity Event, Sunday, March 12 at 4 PM - An annual head-shaving event where the community raises money and awareness to help fight children's cancer. Fun Fact: "craic" is an Irish term meaning good times," so we like to always say that this event is "great craic for a great cause". We have a $50,000 fundraising goal and shavees are already signing up! Go here and find out how you can participate and donate to the cause.
Parade Day, Saturday, March 14 - No "Season of St. Paddy's" is complete without a trip to downtown Seattle to watch the parade. Doors open at 7:00 a.m. If you prefer to stay warm, channel your inner-Irish by skipping the parade to watch European sports including 6 Nations Rugby (requires $20 cover) and English Premier League soccer. Brunch will be served through 3 p.m., featuring $3 mimosas and $10 carafes while a full menu is available all day. Live Music starts at 3 p.m. with performance from The Undercover Outlaws and The Kennedy Brothers. Stay the day for great food, great drinks and great craic - no cover.
Sports Sunday, Sunday, March 15 at 11 AM - 7 PM - Wake up early to get your fill of European sports including 6 Nations Rugby, cover charge and English Premier League soccer. A full brunch menu is available along with $3 mimosas and $10 carafes. Stay the day or come back by 4 p.m. to share in some traditional Irish music through 7 p.m.
An Irish Beer Dinner: Dining with Arthur Guinness - Monday, March 16 7 PM - Pre-celebrate St. Patrick's Day with four courses of delicious Irish fare from the Fadó kitchen paired with brews from a Dublin Institution - The Guinness Storehouse. We invite you to learn about lesser known beers from the producers of the world's number one selling stout. This extra special dinner will include pairings of Guinness Blonde, the brand new release Smithwick's Pale Ale, Guinness Draught and the Limited Edition Guinness 1759 - Guinness's first luxury beer. Seating is limited and tickets are $50/each and available for purchase.
St. Patrick's Day, Tuesday, March 17 - Opening at 7:30 a.m. on Paddy's Day, Fadó will start the day with Kegs & Eggs! Join us for the festivities and a little wearin' o' the green as brunch is served through 11 a.m. After, the pub will offer its full menu of traditional Irish fare, including corned beef and cabbage. The excitement continues all day and all night as live music and entertainment are provided, including The Undercover Outlaws, The Kennedy Brothers and more!. A full menu is available throughout the day, so be sure to get your corned beef and cabbage! $10 cover begins at 2:00 p.m.
Door cover: $10 cover on March 17th. 21 and over restrictions are noted throughout the special events.
About Fadó Irish Pub
Fadó (pronounced fuh-doe) Irish Pub was the first Irish pub to be designed and constructed in Ireland and shipped and installed in Seattle Fadó is distinguished by its genuine Irish hospitality, quality of its pints and craic (pronounced 'crack', a uniquely Irish form of fun). Fadó has been voted 'Best Of' by a number of local and national publications. Get more information by visiting the pub's website, Facebook page or by following Fadó on Twitter and following the #stpatricksday2015 #fado2015.