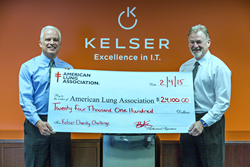 East Hartford, CT (PRWEB) February 19, 2015
The Kelser Foundation set a new record for funds raised and total golfers in attendance at their annual golf Charity Challenge held in September at the Indian Hill Country Club. The 2014 Charity Challenge raised $24,100 for the American Lung Association of the Northeast which is the highest total in the 18 year history of the event. The Charity Challenge also set a record for player turnout with an oversold field of 152 golfers.
"It's incredible that we are able to keep growing such a great event for an even greater cause," said Lisa Carroll, Kelser Foundation Coordinator and Kelser Corporation Marketing Manager. "The Charity Challenge has always been our annual flagship event and we're thrilled that so many of our employees, friends, partners and customers are able to participate at this level."
The event has raised more than $224,713 total to date and typically showcases a sold out field. Prizes are awarded for longest drive men and women, closest to pin, closest to the line and for the top three teams based on lowest total score. Golfers, volunteers, and sponsors are treated to a dinner reception and award ceremony that features prize raffles as well as a silent auction. Photos of the 2014 Charity Challenge can be viewed at http://www.kelsercorp.com/gallery/nggallery/kelser-photo-gallery/2014-kelser-charity-challenge.
The 19th Annual Kelser Charity Challenge is scheduled for October 6, 2015 at the Indian Hill Country Club in Newington, CT. Official registrations haven't yet begun but those interested in participating, volunteering, or sponsoring the event can contact Lisa Carroll at lcarroll(at)kelsercorp(dot)com.
About the American Lung Association:
The American Lung Association of the Northeast is part of the American Lung Association, the oldest voluntary health organization in the U.S. Established in 1904 to combat tuberculosis; our mission today is to save lives by improving lung health and preventing lung disease. The focus is on air quality, asthma, tobacco control, and all lung disease. The American Lung Association in the Northeast serves Connecticut, Massachusetts, Maine, New Hampshire, New York, Rhode Island and Vermont. For more information, visit http://www.LungNE.org.
About The Kelser Foundation:
For Kelser, philanthropy is more than an initiative; it is has been a way of life. In 2011 the Kelser Foundation was established, and through the generosity of employees, families and friends, has played an active role in a number of charities locally, throughout America, and across the globe. To learn more about the Foundation, visit http://www.kelsercorp.com/foundation/.
About Kelser Corporation:
Kelser Corporation delivers custom-built technology solutions to companies of all sizes throughout the Northeast. For more than 30 years Kelser's engineers, technicians and customer service teams have focused on helping their clients succeed with their important business initiatives. Kelser Corporation is headquartered in East Hartford, CT.