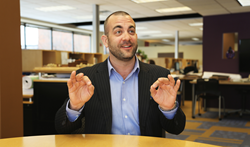 Recognizing the importance lean and six sigma expertise have on the healthcare industry, Array has set a goal to have our project teams well represented. We now have 25% of our professional staff certified. - Carl Davis, CEO
(PRWEB) February 25, 2015
Senior leadership at Array Architects - from c-suite to practice area leaders and studio directors to project architects - have made it a priority to earn their green or black lean/six sigma belts. Achieving a belt is a by-product of Array's lean-led process, a unique approach from which each healthcare project benefits.
Anthony Caputo, of Array's design practice area leaders, is the firm's most recent belted leaders. By earning his Lean Six Sigma Green Belt from the University of Michigan, Tony joins his fellow PALs as well as several studio directors and designers who have participated in lean training and completed the requisite lean project to identify a problem which can be corrected by implementing lean thinking.
Array's approach to lean-led design focuses on sustainable business solutions for today's evolving healthcare environment. High value building solutions that support best practice medicine and care strategies are utilized in every planning and design opportunity. Every process and task is evaluated for its effectiveness as part of the overall process flow. The impact of this rigorous thought exercise has incredible results on operational efficiency, effective care delivery and bottom-line value. Each lean belt practitioner is well-versed in the methods of value stream mapping, and employs a host of other tools to rally user group input and reach consensus.
Since 1983, Array Architects has been recognized as one of the nation's leaders in the design of healthcare facilities and offers a full complement of knowledge-based services including planning, architecture, interior design and advisory services from our six office locations. Our devotion to a healthcare-exclusive practice springs from our belief in the power of design to improve patient outcomes, maximize operational efficiencies, increase staff satisfaction and provide remarkable results for our clients.