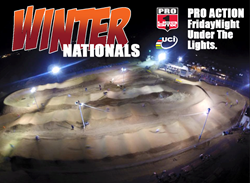 USA BMX racing is exciting to watch for all ages - and spectating all weekend is FREE
(PRWEB) February 19, 2015
Gilbert, AZ: THE BEST IN BMX RACING TO COMPETE IN PHOENIX THIS WEEKEND - AT THE USA BMX WINTER NATIONALS
One of America's largest action sports - BMX Racing, is coming back to town. This weekend, over 1,000 amateur racers from around the country, ranging in ages from 2 to 70-plus, will converge on Black Mountain BMX track for the USA BMX Winter Nationals.
This weekend also marks the first Pro series race of the 2015 season, with the World's fastest BMX racers from all over the World kicking off their season - to gain points for their country, which will determine how many Olympic spots will go to their homeland. Pros and Olympics athletes from 2008 and 2012 will be on hand, hoping to get a jump on their Olympic quest for Rio 2016. Among them all is the newly crowned USA BMX No.1 Pro - Latvia's Maris Strombergs, who is also the mens Gold medalist from both Beijing and London games and a former World Champion.
Saturday's racing will kick off with the Strider bike class, for 2 & Under, 3, 4 and 5 year olds on pedal-less push bikes. Toddlers as young as 20 months will be racing on a special mini-version of the Black Mountain track, and getting their first taste of victory.
At the other end of the spectrum, there will be plenty of parents and even some grandparents racing in the larger-wheeled classes for 30, 40, 50 and 60+ year olds. USA BMX racing is one of those rare sporting activities where moms and dads get to compete along with their children.
BMX is a sport for boys and girls of all ages, with four unique skill levels. It is full of nonstop action - with up to eight riders speeding down the starting hill, maneuvering over dirt obstacles and around steeply banked turns in hopes of gaining a spot on the podium. On average, each race is a 33 second sprint, with full contact, close-knit racing and sometimes - thrilling crashes and victories.
Winners will take home a hefty 4 foot tall trophy.
USA BMX racing is exciting to watch for all ages - and spectating all weekend is FREE

There is, however, a $10 a day parking fee, to benefit the track.
WINTER NATIONAL SCHEDULE:
The USA BMX Winter Nationals will be held February 20, 21 & 22, at the Black Mountain BMX facility - located at 24024 N 11th St, Phoenix, AZ 85024 - north of the Deer Valley Airport.
FRIDAY: Action begins on Friday with practice throughout the afternoon and a pre-race starting at 5pm.
SATURDAY: Practice continues in the morning and National racing kicks off promptly at 11:30am with Strider (balance bike) racing for 2, 3, 4 & 5 year olds.
SUNDAY: Action begins at 8:00am, with the main events starting at approx. 1pm.
-- -- -- end -- -- -- --
MEDIA CREDENTIALS are available on site at the USA BMX registration trailer. Upon arrival at the BMX race, we ask that all press first check-in at the back of the USA BMX Registration trailer to pick up a all-access Media vest.
ABOUT BLACK MOUNTAIN BMX: For the past 30 years, the Black Mountain BMX track holds events on a weekly basis. Every Wednesday, they hold practice, with competition taking place every Friday and Saturday night. Black Mountain is World Famous for it's smooth and meticulously groomed track, and fun family atmosphere. Brand new riders are always welcomed to bring out their bikes and give BMX racing a try - with coaching and new rider clinics taking place every Monday.
ABOUT USA BMX: The American Bicycle Association (ABA) was formed in 1977 and is headquartered in Gilbert, Arizona. USA BMX organizes BMX racing for boys, girls and adults, throughout the United States, Canada, and Puerto Rico. With over 70,000 active members who compete on a weekly basis at over 370 racing facilities in 49 states, the Olympic sport of BMX Racing continues to grow.
USA BMX, with a 30 event national race schedule, is the largest promoter of action sports in the country.