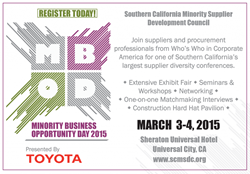 Rancho Cucamonga, CA (PRWEB) February 18, 2015
As a certified minority business enterprise (MBE), RDI-Engineering will attend the annual Minority Business Opportunity Day (MBOD), held on March 3 and 4 at the Sheraton Universal Hotel in Universal City. The MBOD conference is presented by the Southern California Minority Supplier Development Council (SCMSDC), and features a networking reception, exhibit fair, workshops, seminars, and one matchmaking interview between a certified minority business and corporate members.
"Attending this year's MBOD conference is an exciting opportunity to gain valuable information directly from suppliers and procurement professionals. I'm looking forward to participating in one of the largest supplier diversity conferences in Southern California and I'm excited to see what future prospects it may lead to for RDI" said CEO, Hector Mendoza Jr.
The MBOD conference gives diverse companies a chance to meet with representatives from major corporations and an opportunity to expand business networks. The expected number of MBDO attendees is approximately 1,200 people. The first day of the conference consists of a breakfast, workshops, seminars, and a networking reception at the end of the day. These workshops expose MBEs and corporate representatives to enhance business potential and increase business development. The second day will include a breakfast, exhibit fair, construction fair, luncheon, and one matchmaking interview for those previously registered. The exhibit fair will display 80 plus corporations and MBEs. The construction fair will be similar to the exhibit fair, except tailored to construction industry professionals and suppliers.
The SCMSDC is a non-profit minority business advocacy organization that seeks to support and develop minority owned businesses.
###
About RDI-Engineering:
RDI-Engineering is a certified minority-owned company that was founded by CEO, Hector Mendoza Jr. in 2009. RDI-Engineering offers a variety of services for the utility and telecommunications industry. From highly effective project management to the latest in architecture, engineering and construction, all resources are used to achieve the highest quality of customer satisfaction.