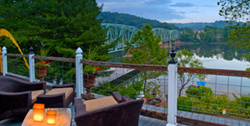 It is such an honor to be named to this list as one of the top 10 most romantic inns in the country.
Upper Black Eddy, PA (PRWEB) February 19, 2015
The Bridgeton House on the Delaware in Upper Black Eddy, PA has been selected as a 2015 top 10 Romantic Inn by ILoveInns.com. Bridgeton House was chosen for this prestigious award from over 20,000 inns nationwide.
ILoveInns.com has chosen a top 10 list for the past 22 years. This year, after months of consideration by their full-time staff members who spend eight hours a day and in rounds of heated discussions, they have chosen their top 10 Romantic Inns inclusive of Bridgeton House on the Delaware.
ILoveInns.com is America's favorite inn website for choosing the best bed and breakfast inns. Their website lists over 20,000 inns with photos, video clips and web links. The award winning inns on the list, including the Bridgeton House on the Delaware, each offer the best in one-of-a-kind romantic experiences.
"It is such an honor to be named to this list as one of the top 10 most romantic inns in the country," agreed Bea and Charles Briggs, owners of Bridgeton House. They have spent 34 years continually working on this historic building to create a top notch luxury boutique New Hope area inn. Their dedication and passion also includes training a friendly and caring staff, who pride themselves on creating dream getaways for their guests. "We are all so excited to see our work recognized," said Diane Marshall, General Manager at Bridgeton House on the Delaware.
Bridgeton House on the Delaware was also just named a Best Weekend Getaway in Pennsylvania by VacationIdea.com. Bridgeton House was one of only 20 destinations named as a Best Weekend Getaway in Pennsylvania.
VacationIdea.com is an online magazine for travelers who are looking for places to spend their next vacation or getaway. VacationIdea.com has been named "Best of the Web" by Forbes for nine years in a row. This online travel magazine seeks out the most exciting destinations and hotels to publish for their readers. Hotels are chosen by their staff writers and editors, and no payment for editorial coverage is accepted.
VacationIdea.com is an unbiased resource whose goal is to provide the best range of options for the most memorable romantic getaway for their readers. They do not accept any online bookings and as such are a reliable and impartial resource.
The owners and staff at Bridgeton House strive to offer a range of choices for their guests. They offer everything from the classic room for the budget minded traveler, to the ultimate in luxury and romance, including river views, fireplaces, Jacuzzi tubs, fine dining and spa packages. A wide range of relaxation and adventure packages also allow guests to create their own unique getaway. All guests enjoy the beauty of a riverside location and enjoy an incredible breakfast, afternoon tea and 24 hour access to a stocked butler's pantry.
About the Bridgeton House on the Delaware:
Bridgeton House is a riverfront luxury Bucks County bed and breakfast inn. Casually sophisticated with an eye toward design & comfort, this unique, riverfront inn offers fine lodging about 20 minutes north of historic New Hope, PA in Upper Black Eddy, PA. Centrally located between New York and Philadelphia, about an hour's drive from either city, it is the perfect location for a romantic getaway, a relaxing staycation, an adventure weekend, a small intimate wedding or for corporate and team building events.
Beautifully situated on the banks of the Delaware River, this New Hope area bed and breakfast is decorated in a sophisticated artistic style. Bridgeton House combines French country charm with American simplicity and a dash of originality, with sumptuous feather beds, luxury linens, fireplaces, whirlpool tubs, balconies, French doors, fine dining packages, adventure packages and incredible river views.
The inn offers 12 lodging rooms, including suites, a Penthouse & a private Boat House cottage- featuring 2 person Jacuzzi tubs, fireplaces, 2 person showers and amazing river views. Most rooms offer screened riverside porches, riverside balconies or riverside terraces. All rooms include free internet, cable TV and private baths. Room rates include a wonderful afternoon tea featuring homemade sweets and savories, evening sherry and a multi-course made to order breakfast.