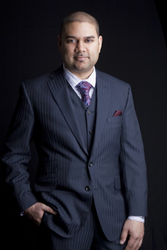 Powell, OH (PRWEB) February 17, 2015
Dr. Neal Patel of Infinite Smiles is recognizing Gum Disease Awareness Month by helping his patients detect signs of gum disease, such as gum recession. Most adults deal with some degree of gum recession in their lives, due to multiple factors. If left untreated, receding gums can create pockets where gum disease bacteria flourish. Dr. Patel now offers his Powell, OH patients the Pinhole Surgical Technique™ (PST™), a minimally invasive treatment for gum recession.
Gum recession is common enough that many underestimate the problems associated with it. Treatment is about far more than improving the cosmetic appearance of the gums, though it definitely also does that. When the gums recede, dangerously deep pockets of space often form between the gums and the teeth they are meant to protect. The pockets harbor bacteria and plaque, which further destroy the gums, bone and teeth. This type of gum disease is a frequent reason that people in Powell, OH end up having their teeth extracted. Dr. Patel wants to help those in his community by giving them the treatment they need to improve their oral health and save their teeth.
PST™ is an exciting new treatment that offers phenomenal results in the fight against receding gums. It is the minimally invasive replacement to traditional gum graft surgery. In performing PST™, Dr. Patel thoroughly numbs his patients using local anesthetic before creating a tiny pinhole in the affected gums. Using specialized instruments, he carefully lifts the receding gums from their position and moves them into a healthier placement. Results are immediate, and patients leave his office without stitches. Healing occurs quickly and discomfort is minor because of the lack of cutting or other surgical trauma.
Anyone who wants to learn more about the occurrence and treatment of gum disease in Powell, OH may visit Dr. Patel's website or call his office for an appointment.
About the Practice
Infinite Smiles is a general practice in Powell, OH, providing personalized dental care through the use of the highest level of dental technology. Dr. Neal Patel received his Bachelor's degree in molecular genetics and his DDS from The Ohio State University. He is a member of the American Dental Association, the American Academy of Cosmetic Dentistry, and the American Academy of Craniofacial Pain, among many others. Widely published, he has been featured in Forbes, Newsweek, The Wall Street Journal and is a best-selling author. He has received numerous customer and peer review honors, including Columbus, Ohio Top Dentist and is an Angie's List Super Service Award winner for consistent customer satisfaction. To learn more about Infinite Smiles and the services Dr. Patel offers, visit his website at infinitesmiles.com or call (740) 881-2600.