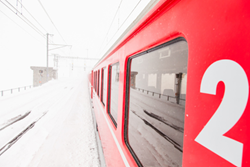 Canton, OH (PRWEB) February 17, 2015
New Englanders are all too familiar with snow and the problems it can create for their transit systems. This winter has already been the third snowiest on record for the area, and its commuters have been hit hard by frequent blizzards and hazardous conditions. According to the flight tracking website Flightaware.com, more than 400 flights scheduled to land at Boston Logan International Airport were cancelled over the weekend, and train service between Boston and Brunswick, Maine, was suspended entirely.
To add to the misery, area transit systems have struggled to maintain regular service throughout this brutal winter and have been forced to delay or cancel all train activity until their rails have been properly cleared of ice.
Looking to offset the effects of another vicious blizzard, the metro rail system contacted Midwest on Friday, and within 14 hours, our innovative de-icing technology was at their doorstep, ready to help them keep their trains moving.
According to Eric Vantiegham, a Midwest Rail & Transit specialist, the mass transit line learned about the company from its involvement with other well-known transit systems. "They knew that the large, major transit authorities as well as smaller transit agencies, have used (our services)," said Vantiegham. The transit authority was specifically interested in Midwest's Zero Gravity Third Rail® product, which uses technology co-developed with NASA to keep the product on the rails and effectively prevent ice buildup over the long term.
With yet another winter storm threatening to halt service over the weekend, the metro system decided it needed more than a little outside help. The train service hoped to not only secure 12 drums of Zero Gravity Third Rail, but also to apply the product throughout the storm. In order to do so, Vantiegham and the Midwest team specially designed a custom applicator to suit the transit line's needs, which arrived in time to get their commuters home before the big storm.
Midwest would normally recommend their Ice-Slicer® Third Rail Spray Systems which are custom-built for each customer and applied onto a maintenance or non-revenue car. But in order to meet the quick turnaround, Midwest utilized their Cobra® Winter Spray Systems, which were promptly retrofitted and shipped. "We sent out some of our belt systems, called Cobras, and retrofitted them for the transit agency," Vantiegham continued. "We had to take these belt deicers and add different spray headers and splitters with ball valves to control left and right spray patterns, and we got those put together, sent off, and delivered within fourteen hours." To that end, the transit company is in talks with Midwest to develop a full-scale solution for next winter in the hopes of preventing future transportation snafus.
Having helped the rail line soften the blow of another winter storm, Midwest has provided yet another city's travelers with safe and reliable service through dangerous conditions. Thanks to Midwest's Zero Gravity Third Rail and Cobra Winter Spray Systems, getting to work inthe northeast just got a lot easier.