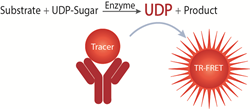 Madison, WI (PRWEB) February 19, 2015
Join us for a webinar on Wednesday, February 25, 2015 from 11:00 AM - 12:00 PM CST: Transcreener® HTS assays for UDP, GDP, and CMP as a Universal Glycosyltransferase Assay Platform
Register Now! Webinar ID: 110-364-979
Glycosyltransferase enzymes participate in extremely diverse metabolic and regulatory roles by catalyzing the transfer of sugar molecules to protein, lipid and carbohydrate acceptors as well as endogenous and xenobiotic small molecules. They are of increasing of interest as therapeutic targets in inherited metabolic disorders, cancer, and for anti-microbials. From an HTS assay perspective, glycosyltransferases are a challenging target class because of the diversity of both donor and acceptor substrates. Most glycosyltransferase screening efforts have relied on either enzyme-coupled assay methods to detect nucleotide products, which are prone to interference, or mass-spectrometry, which has limited throughput. Most of the 200 glycosyltransferases in humans use one of nine sugar-nucleotides as donors, with GDP, UDP, or CMP as the nucleotide moiety. Transcreener® HTS assays enable direct, highly selective immunodetection of all three of these nucleotide products in a homogenous (mix-and-read) format with FP, FI, and TR-FRET readouts, thus they provide a universal platform for glycosyltransferase screening and profiling.
In this webinar you will learn:

How to use optimize Transcreener® Assays for facile detection of glycosyltransferases that use different sugar-nucleotide donors.
How to measure enzyme activity and inhibitor dose responses for several glycosyltransferases, including human fucosyltransferase, glucosylceramide synthase, galactose N-acetyltransferases, β1-4 galactosyltransferase, sialyltransferase and C. dificile Toxin B.
The Transcreener® HTS assays are the only HTS compatible method for glycosyltransferases that allows direct detection of reaction products without the use of coupling enzymes.
After registering, you will receive a confirmation email containing information about joining the webinar.
About BellBrook Labs. BellBrook Labs is dedicated to accelerating drug discovery and biological research by providing innovative high throughput screening solutions for enzymes and phenotypic assays. The company's Transcreener® HTS enzyme assays, used by all of the major pharmaceutical companies, make it easy to screen thousands of different enzymes, including validated targets like kinases, as well as emerging targets like ATPases, GTPases, methyltransferases, and glycosyltransferases. The iuvo™ Microconduit Array technology and assay screening service is a line of unique microscale devices for miniaturization and automation of advanced cell models that are more representative of human physiology.