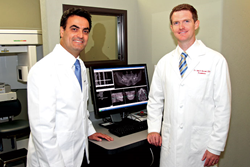 Dual training qualifies us to have more knowledge and dexterity in order to achieve our results
El Cajon, CA (PRWEB) March 02, 2015
Dr. Joel Henriod is half of the specialist team that makes up Rancho San Diego Dental in El Cajon, CA. Dr. Henriod is a periodontist. His partner, Dr. Vahik Meserkhani, is a prosthodontist.
Drs. Henriod and Meserkhani are an extremely qualified team.
Dr. Joel Henriod is a periodontist from the renowned UCLA School of Dentistry. He was also the Chief Resident during his Periodontal Residency at the Medical University of South Carolina. He is a Diplomate of the prestigious American Board of Periodontology. He has been a leader in his profession, and has given numerous presentations and lectures to clinicians around the country. He has also been widely recognized by his patients as a caring, competent professional. He was voted TOP DENTIST two years in a row by the readers of PASADENA MAGAZINE (where he also practices).
Meserkhani is a leader in the field of Dental Prosthodontics and Dental Implantology. As a Prosthodontist, he is a highly trained Dental specialist skilled in the replacement of missing teeth and restoring natural teeth. He is additionally a Diplomate in the American Board of Oral Implantology and an Associate Fellow of the American Academy of Implant Dentistry, a certification awarded to less than 400 dentists in the United States. Dr. Meserkhani was also on the treatment team at Zimmer Implants that developed a special procedure to place new teeth in one day. He is renowned for his skill in full-mouth reconstruction and has been featured on Fox News. He not only practices his specialty, he lectures both nationally and internationally on Oral Implantology, Prosthodontics and Collaborative Dentistry.
The two noteworthy professionals have joined forces in El Cajon at Rancho San Diego Dental. Here they have teamed up with their complementary advanced skills to provide dental implants with both state-of-the-art diagnostic equipment, and the most advanced materials and design.
Having both an expert prosthodontist and a periodontist on the same case gives an added technical advantage, as both the surgical and restorative aspects of the procedure are handled by doctors with advanced training on their particular aspect of the work. Dr. Henriod's expertise in the supporting structures of the teeth and his knowledge of the best materials to use in each case allows him to surgically place the correct implants with the greatest of accuracy and minimal extra effort. Dr. Meserkhani's intimate knowledge of prosthetic devices makes the resulting teeth look completely natural and ensures they are maximally durable.
"Dual training qualifies us to have more knowledge and dexterity in order to achieve our results", Meserkhani explains. As a team, they achieve a technical result that is nothing short of state-of-the-art.
But state-of-the-art result is only half the requirement for this team. They both entered their professions to help, and they both display a caring, interested and informative approach to their patients. The patients feel comfortable, cared for and happy to be at the practice as a result.
For further information about the doctors and their practice, visit their website at http://ranchosandiegodental.com