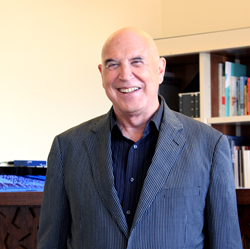 Bruce Ferguson is a significant art world intellectual and a true global thinker ready to lead Otis to the next level
Los Angeles, CA (PRWEB) February 18, 2015
The Board of Trustees of Otis College of Art and Design, Los Angeles' first professional arts school, today announced Bruce Willis Ferguson as its next president, effective May 11, 2015. Mr. Ferguson, currently Vice Chairman at the global multi-media company Louise Blouin Media, is a recognized leader in the arts, with a distinguished record as an educator, curator, and critic.
"Bruce Ferguson is a significant art world intellectual and a true global thinker ready to lead Otis to the next level," said Thomas R. Miller, Otis Board of Trustees Chair. "He brings significant academic and institutional leadership experience to Otis, with a distinguished record of teaching, critical publications, curatorial projects, executive board-building, public relations, and fundraising success. The Board of Trustees is confident that Bruce has the experience and vision to lead Otis into its next century."
An accomplished author and curator of dozens of nationally and internationally noted exhibitions, Mr. Ferguson is the founding director and first curator of the nationally acclaimed SITE Santa Fe in New Mexico. He has curated for such eminent institutions as the Barbican Art Gallery in London, the Institute of Contemporary Art in Boston, and the Winnipeg and Vancouver art galleries in Canada. He has also organized exhibitions within the international biennales of Sao Paulo, Sydney, Venice, and Istanbul. Mr. Ferguson's extensive academic leadership experience includes roles as Dean of Columbia University's School of the Arts, Founding Director of Arizona State University's F.A.R. (Future Arts Research), and Dean of Humanities and Social Sciences at the American University in Cairo, Egypt. In 2006, he was awarded an honorary doctorate by the Kansas City Art Institute in recognition of his leadership in the arts.
"I am honored and thrilled to be appointed to head one of the world's leading art and design colleges at a time when Los Angeles' cultural institutions and creative industries are such significant forces around the world," said Mr. Ferguson. "If location and timing are everything, I couldn't be in a better place at a better time."
Mr. Ferguson will assume leadership of Otis during a pivotal moment in the institution's storied history. As the College approaches its centennial in 2018, an ambitious expansion plan of its main Elaine and Bram Goldsmith Campus in Los Angeles is underway to meet the needs of a student population that has grown significantly over the last decade. The centerpiece of the plan is a new facility, designed jointly by the award-winning architectural firms Ehrlich Architects and Frederick Fisher and Partners, which will add a residence hall, 300-seat forum, and additional academic and administrative space to the campus.
Recently recognized with the Carnegie Foundation's prestigious 2015 Community Engagement Classification, Otis continues its long-standing commitment to prepare diverse students to become thriving creative professionals in the global creative economy. Otis alumni and faculty are Fulbright, MacArthur, and Guggenheim grant recipients, Oscar winners, legendary costume designers, leaders of contemporary art movements, notable entrepreneurs, and design stars at Apple, Pixar, DreamWorks, Mattel, Nike, and Disney.
"Bruce Ferguson is a thoughtful, collaborative leader known for innovation and vision in the arts," said Randall Lavender, Otis' Acting Provost and Chief Academic Officer. "He will be a welcome and important influence as Otis expands its role in art and design education both in Los Angeles and on the international stage."
ABOUT OTIS COLLEGE OF ART AND DESIGN
Established in 1918, Otis College of Art and Design is a national leader in art and design education. The College mission is to prepare diverse students of art and design to enrich our world through their creativity, skill, and vision.
Otis enrolls approximately 1,100 full-time students, and offers Bachelor of Fine Arts degrees in Architecture/Landscape/Interiors, Digital Media (Game and Entertainment Design, Animation, and Motion Design), Fashion Design, Communication Arts (Graphic Design, Illustration, and Advertising Design), Fine Arts (Painting, Photography, and Sculpture/New Genres), Product Design, and Toy Design. Otis also awards the Master of Fine Arts degree in Fine Arts, Graphic Design, Public Practice, and Writing.
The five-acre main campus is located on L.A.'s Westside near the beach and LAX; Fashion Design is in the heart of the downtown fashion district; and the Graduate Studios are on the Creative Corridor in nearby Culver City, and in the 18th Street Arts Center in Santa Monica.
2,700 adults and children participate in Continuing Education art and design classes and workshops.
Additional information is available at http://www.otis.edu