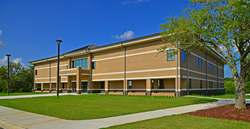 So we felt it was our responsibility, to our client and to the environment, to take initiative and oversee successful LEED Silver Certification on the Love Dental Clinic project as well. Corporate Sustainability Director Jackie Mustakas
Birmingham, AL (PRWEB) February 18, 2015
The Love Dental Clinic, located at U.S. Army Base Fort Benning in Georgia, recently received LEED® Silver Certification from the USGBC. Birmingham-based Construction Manager Robins & Morton proactively registered and managed the certification process on this $15 million design-build renovation for the Huntsville Center of the U.S. Army Corps of Engineers and the U.S. Army Medical Command (MEDCOM). The two-story, newly renovated 39,734 square foot Love Dental Clinic is now an aesthetically appealing, energy efficient, modern structure that houses one of the U.S. Army's largest and most technologically-advanced dental facilities.
Realizing the value beyond the project's requirement to meet minimum LEED Silver standards, Robins & Morton registered the project and acted as its sustainability consultant and LEED administrator. The project achieved 55 points for Silver certification, though only 50 points were necessary to be certified.
"Robins & Morton has successfully managed the LEED process on multiple projects in the past," said Corporate Sustainability Director Jackie Mustakas, "So we felt it was our responsibility, to our client and to the environment, to take initiative and oversee successful LEED Silver Certification on the Love Dental Clinic project as well."
Some of the LEED Credits attained at Fort Benning's Love Dental Clinic Renovation include:
Site

Design maximized open, green space onsite to five times the credit requirement, this awarded the team a bonus, exemplary performance point
Installed high-albedo roofing to avoid heat island effect
Water
Installed vegetation native to the area to eliminate water usage for irrigation
Reduced water usage within building by 34% through installation of low-flow fixtures
Energy
Designed efficient building systems to minimize energy needs by 18%
Performed enhanced commissioning services to ensure energy goals were met
Installed a measurement and verification system to provide an ongoing accountability for the building's energy consumption
Materials
Utilized project materials totaling 31% recycled content; this awarded the team a bonus, exemplary performance point
Sourced 31% of project materials from within the region; this awarded the team a bonus, exemplary performance point
Maintained 97% of the existing building's walls, floors, and roof to minimize waste and the need for new, raw materials
Indoor Environmental Quality
Implemented a detailed Indoor Air Quality Management Plan to protect air quality within the building
Installed materials with low level of toxins and VOC's to protect the health of construction workers and future occupants
Innovation & Education
Generated an education program for visitors to learn about Green Building
Achieved Design for Active Occupants pilot credit which helps improve the health of building users by encouraging physical activity
Robins & Morton performed this Design/Build (Type III) Work Plan as part of its participation in an Indefinite Delivery / Indefinite Quantity Multiple Award Task Order Contract for Repair & Minor Construction of Medical Facilities, serving MEDCOM and the U.S. Army Corps of Engineers Mobile and Huntsville Districts. Through this and other IDIQ/MATOCs, Robins & Morton has performed nearly 50 projects at military bases all across the United States.
About Robins & Morton
Founded in 1946, Robins & Morton is a privately held engineering and construction firm that consistently ranks among the 100 largest U.S. contractors in Engineering News-Record magazine. The company has also been named one of the best mid-sized companies to work for in America because of its worker-friendly and family-friendly practices. Robins & Morton is based in Birmingham, Alabama. with offices in Dallas, Texas; Huntsville, Alabama; Orlando, Florida; Nashville, Tennessee; Charlotte and Raleigh-Durham, North Carolina. For more information, visit http://www.robinsmorton.com.
Photo credit © Charles Beck Photography
Contact:
Melissa Butler, Director of Marketing
(205) 803-0147
mbutler(at)robinsmorton(dot)com