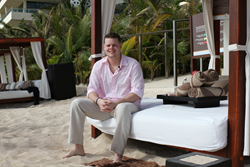 Miami, Florida (PRWEB) February 18, 2015
The star sightings continue at Generations Riviera Maya as the winner of CBS reality TV show Big Brother 16, Derrick Levasseur, celebrated his birthday with his family at Generations Riviera Maya, by Karisma.
The luxury resort offers one, two and three bedroom suites with butler service, infinity pool balconies, gourmet restaurants, opulent bars and engaging programs for kids. It is truly the place to celebrate with your entire "entourage," Gourmet Inclusive® style.
Levasseur spent his celebration vacation dancing by night, and cooling off in the pool with his daughter by day, the whole time enjoying the sun in stark contrast to the inches of snow back in his hometown of Providence, Rhode Island. The family time continued with a chef inspired birthday dinner at The Wine Kitchen with both his wife and daughter.
For more information and to book your celebration vacation, visit http://www.celebrationsatgenerations.com and discover a year full of star sightings, VIP treatment, birthday surprises and a chance to win a celebration vacation.
About Karisma Hotels & Resorts:
Karisma Hotels & Resorts, an award-winning luxury hotel collection which owns and manages properties in Latin America, the Caribbean and Europe, comprises an impressive portfolio including El Dorado Spa Resorts & Hotels, Azul Hotels & Villas by Karisma, Generations Resorts by Karisma, Allure Hotels by Karisma and Karisma Hotels Adriatic. Properties have been honored with the industry's top accolades including Conde Nast Traveler's "Top 100 Hotels in the World," Conde Nast Traveler's "Top 30 Hotels in Cancun," TripAdvisor® Traveler's Choice "Best Hotels for Romance," and AAA's "Four Diamond Award." Karisma has received worldwide recognition for its creative approach to hospitality management and product innovations. For reservations and a full list of Karisma properties, please visit http://www.karismahotels.com.