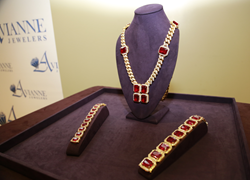 New York, NY (PRWEB) February 18, 2015
On Thursday, February 12th, the master jewelers teamed up with Athlete for Art Renaissance Tour held at Manhattan Motorcars to exhibit various artwork pieces created by superstar athletes. Avianne & Co exhibited their own art craftsmanship known as the Royal Collection. This notorious collection consists of rings, pendants, and bracelets crafted in solid 14K yellow, white and rose gold featuring semi-precious gemstones such as Red Ruby and Blue Sapphire.
Guest of the events was introduced to these luxurious pieces while getting the chance to choose and try on designs of their choice. Amongst the featured artist who attended was retired NBA player Desmond Mason, San Francisco 49ers player Vernon David, Atlanta Falcons footballer Robert McClain, and skateboarder Anthony Mosley.
The following day, the team continued to celebrate All-Star weekend by sponsoring the annual Where Music Meets Couture Fashion Show held at The Attic Rooftop Lounge Times Square New York. Supermodels and athletes gathered at the event to strut the runway in couture fashion designer clothes. Pieces from Avianne & Co's Royal Collection was styled together with Edwing D'Angelo's Fall Collection. Model's who rocked the Royal Collection included NY Giants Walter Thurmond, football player Dereck Faulkner, and supermodel Nichole Murphy.