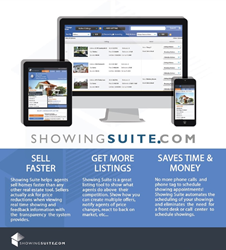 Listing Sync is a valuable time saver and Showing Suite is pleased to offer it to real estate agents in Canada.
San Diego, CA (PRWEB) February 18, 2015
Showing Suite, Inc. is now integrated with the data feed from the Data Distribution Facility in Canada (DDF®). All agents connected to the data feed now have full access to Listing Sync, a service provided by Showing Suite that automatically uploads MLS listings into users' Showing Suite accounts.
Listing Sync access in Showing Suite's system provides the ability for any REALTOR® in Canada to have their listings automatically sync to their account. Thanks to the integration with DDF® with Showing Suite's system, agents in Canada no longer have to manually input listings into their Showing Suite account saving them time by only needing to update their listings through their MLS.
All property information including up to eight photos are automatically uploaded when Listing Sync is enabled. If users update information in the MLS it will automatically update in the Showing Suite system. Listing Sync is a valuable time saver and Showing Suite is pleased to offer it to real estate agents in Canada. This makes the set up process even easier for new Canadian customers.
Once a listing is in an agent's account, they are able to take notes, see statistical reports for that listing's showings and monitor current MLS information. Seeing the responses to automated showing feedback requests for each listing gives the agent the opportunity to pass along compelling reports to their clients. These reports help the client and agent navigate the changes that need to happen to the home which aids the selling process.
The Showing Suite system is designed to be customizable for each agent's needs. Automated feedback surveys customized by the agent, personalized emails through the eblast service, automatic reminders for showings appointments, customizable calendars that automatically sync and update are among a few of the services that subscribers have access to in the award winning Showing Suite system.
How DDF® Works with Showing Suite:
Canadian REALTORS® will be able to sync their listing content to Showing Suite through DDF®. Showing Suite subscribers who wish to utilize DDF® to populate their Showing Suite account would use the DDF® facility to create a listing feed that would sync their listings to their Showing Suite account. Any changes to existing listings or new listings will automatically be synced to their Showing Suite account.
About Showing Suite, Inc.
Showing Suite, Inc. is the widest used showing system in all of North America developing and implementing market-leading tools that allow real estate professionals to sell homes smarter and faster. Since 2001, the company has brought a suite of web-based software solutions for the real estate sector to market, including its flagship product, HomeFeedback®, as well as Home Followup, Listing Sync, Showing Sync®, ForeclosureFeedback®, and Showing Calendar®. Since inception, Showing Suite™ has helped more than 900,000 real estate professionals in the U.S. and Canada retrieve valuable feedback from potential buyers to increase home sales. For more information visit http://www.ShowingSuite.com.
If you would like more information about this topic, please contact Michelle Costa at 858.270.1055 or email at MichelleC(at)ShowingSuite(dot)com.