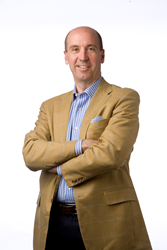 In the near future, the greatest change will be the accelerating rate of change
Minneapolis, MN (PRWEB) February 18, 2015
"One word: Plastics." This quote was funny, pithy and incredibly insightful back in 1967 from the film "The Graduate." Forty-seven years later, it actually is one of the great truths within the medical device industry. Futurist Jack Uldrich will elaborate on technological advances that have changed the shape of things to come and how leaders in the medical device industry can future-proof themselves for the sea of changes that are coming.
The leading medical device manufacturer that Uldrich will address in Minneapolis on February 18th provides a wide range of manufacturing capabilities including machining, plastic injection molding, stamping, metal forming and clean room assembly and packaging. Uldrich will deliver his keynote, "The Big AHA: How to Future Proof the Medical Device Industry." In the presentation he will outline for their audience members the ten technological trends that will transform the medical device world of tomorrow. Uldrich also aims to help them identify concrete actions they can take today to future-proof themselves against "the tides of tomorrow."
"In the near future, the greatest change will be the accelerating rate of change," says Uldrich. While Uldrich will outline the tech trends that will be transforming the industry he will also address future-proofing. "The key to future-proofing is embracing paradox: learning to unlearn, thinking about the unthinkable, recognizing failure as a key component of success, and understanding that an awareness of one's ignorance is a key component of true wisdom."
A selection of Uldrich's previous clients include Emerson, ABB, St. Jude, Boston Scientific, Medtronic, Pfizer, United Healthcare and Allina. He travels the world speaking and writing on the transformation of health care, agriculture, education, energy, finance, retail and manufacturing. He argues that creativity and action are more powerful and versatile than knowledge. And he reminds people that forty-seven years ago, while "Plastics" may have seemed like a joke it is now one of the waves of the future.
Parties interested in learning more about Jack, his books, his daily blog or his speaking availability are encouraged to visit his website. Media wishing to know more about either the event or interviewing Jack as a futurist or trend expert can contact Amy Tomczyk at (651) 343.0660.