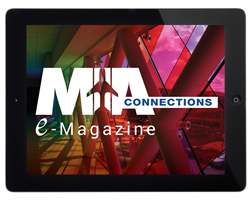 " Highlights the best our community has to offer, but also showcases the ongoing improvements and customer service enhancements at MIA, such as our award-winning shops and restaurants, world-class art installations, and new intermodal connections."
(PRWEB) February 19, 2015
What can you do during a layover at Miami International Airport or an extended stay in Miami? Find out with MIA Connections, the airport's official digital magazine.
Beginning today, travelers can use their digital devices to explore the best dining, shopping and entertainment options inside MIA and throughout Miami-Dade County with the new e-magazine, available free of charge via MIA's wireless network at http://www.MIAConnex.com.
Each quarterly issue will showcase local attractions and special events, as well as new destinations from MIA's growing network of more than 150 cities across the world. MIA Connections is also the first U.S. airport e-magazine available in both English and Spanish, with tourist-friendly content from HCP/Aboard Publishing, the custom publishing arm of the Miami Herald. MIA Connections is the latest way the airport is using technology to enhance the travel experience, following the launch of its mobile app MIA Airport Official just three months ago and its award-winning social media.
"We're thrilled to partner with HCP/Aboard in this new endeavor, which not only highlights the best our community has to offer, but also showcases the ongoing improvements and customer service enhancements at MIA, such as our award-winning shops and restaurants, world-class art installations, and new intermodal connections," said Miami-Dade Aviation Director Emilio T. González. "Most importantly, MIA Connections will help to further expand and strengthen our engagement with passengers."
Miami International Airport offers more flights to Latin America and the Caribbean than any other U.S. airport, is America's second-busiest airport for international passengers, boasts a lineup of 100 air carriers and is the top U.S. airport for international freight. MIA is also the leading economic engine for Miami-Dade County and the state of Florida, generating business revenue of $33.7 billion annually and welcoming 70 percent of all international visitors to Florida. MIA's vision is to grow from a recognized hemispheric hub to a global airport of choice that offers customers a world-class experience and an expanded route network with direct passenger and cargo access to all world regions.