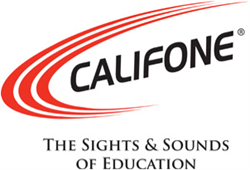 The VoiceSaver provides clear, vibrant amplification that places no additional strain on a teacher's vocal cords
San Fernando, Calif. (PRWEB) February 18, 2015
As school districts increasingly integrate audio technology to support modern classrooms and Common Core assessments, Califone International LLC, the leading manufacturer of audio technology and sound presentation solutions for schools, industry, institutions and professional use, introduces its upgraded Bluetooth-enabled VoiceSaver™. The personal amplifier provides teachers with clarity while delivering lessons, and now features a wireless headset for hands-free flexibility.
Designed to assist soft-spoken presenters and combat vocal fatigue, the VoiceSaver features:

Enough power to amplify a voice for use in mid-sized classrooms and tour groups of up to 25 people;
Dedicated Bluetooth headset for complete hands-free flexibility and movement about the classroom up to 20 feet away from the receiver;
Lightweight frame that can free-stand on a table or desktop;
6-8 hours of battery life and can still be used while batteries are recharging;
One-year warranty for school use.
"Speaking to a classroom of 20 or more students for eight hours a day, five days a week can put a strain on educator's voices," said Tim Ridgway, vice president of marketing for Califone. "Their voice is a critical resource for delivering Common Core instruction. The VoiceSaver provides clear, vibrant amplification that places no additional strain on a teacher's vocal cords."
The VoiceSaver is part of a growing line of Califone voice amplification products including headphones and headsets designed to deliver and assist with Common Core instruction.
About Califone
Califone was founded in 1947 and continues to be a leader in the design, development and manufacturing of audiovisual and supplemental curriculum products for use in education. The company's products enable educators to incorporate rich audiovisual resources into lessons that help students build speaking and listening skills, critical to the English Language Arts portion of the Common Core State Standards. Califone offers a complete line of audio solutions, wireless systems and multimedia products for small, medium and large presentation needs, and serves millions of educators and students in the PreK through higher education school environments.