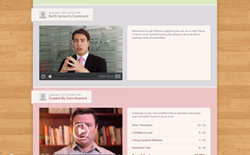 This opens up a whole new application for what Rehearsal VRP is and can be. Darik Volpa, CEO
Reno, Nevada (PRWEB) February 19, 2015
Rehearsal VRP is excited to announce the release of the Conversation Thread. This major update improves video coaching and interactions with ongoing, dynamic discussions between students and trainers. Meaningful mentoring, teaching, and coaching requires more than a single interaction. Trainers and coaches need a way to make interfacing with students more personal and impactful. The Conversation Thread does just this and allows much greater flexibility for Rehearsal VRP users.
"Rehearsal's Conversation Thread brings scenarios to life by giving mentors the ability to maintain an active dialogue with students. The flexibility of having back-and-forth conversation increases the applications and the effectiveness of the platform. This opens up a whole new application for what Rehearsal VRP is and can be," said Darik Volpa, Founder and CEO.
Previously, when a student responded to a scenario, the only option was to grade or clear the response. Now, you can ask a question or give feedback and continue the interaction by prompting the student for a follow-up video response. This conversation can go on for as long as you like. In addition to this new flexibility, a community of mentors can now provide feedback to a student's response.
An overview video of the Conversation Thread is available here- https://www.youtube.com/watch?v=h_jlVJbf2SQ
About Rebellion Training, LLC
Rebellion Training is focused on transforming the training and development industry with products that will change how people learn, communicate and perform. Rebellion Training is the parent company of Rehearsal VRP, a subsidiary offering video role-play technology.