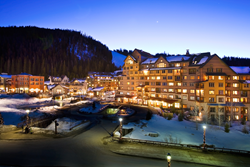 At the current pace, lodging revenues are expected to be more than 10 percent ahead of last year and 4.6 percent above the record set in the 2007-08 ski season.
Denver, Colorado (PRWEB) February 19, 2015
According to DestiMetrics, the forward-looking research program for the mountain travel industry, aggregated mountain lodging revenues at participating western mountain ski resort destinations are moving into record-setting territory based on booking patterns and economic indicators for the 2014-15 winter season. DestiMetrics' monthly Market Briefing reports that as of Jan. 31, 97 percent of all revenues received last ski season have already been collected or are 'on-the-books' between now and the end of the ski season. At the current pace, revenues are expected to be more than 10 percent ahead of last year and 4.6 percent above the record set in the 2007-08 ski season.
As of Jan. 31, aggregated results for the 19 participating mountain resorts in six western states showed an 8.7 percent increase in occupancy compared to the same time last year with Rocky Mountain destinations in Colorado, Utah, and Wyoming showing an eight percent increase while the Far West ski resorts in California, Nevada, and Oregon have seen a 15.2 percent increase in occupancy compared to the same time last year. Corresponding revenues have been even stronger with the Rockies up 14 percent while the Far West is reporting a 15.6 percent boost.
"Even though there are still nearly three months of the winter season remaining, destination guest visitation can be anticipated through season's end based on analysis of advanced booking patterns that are trending well above the past few years," reports Ralf Garrison, director of DestiMetrics. "End-of-season projections show that while seasonal occupancy still lags slightly behind the 07-08 record by less than one percent, lodging rates are expected to generate an overall revenue increase of 4.6 percent to reach a new all-time high."
However, Garrison was quick to add a cautionary note. "While the improving economy is benefitting all regions and areas, weather conditions, snowfall and related snowmaking add variability on a regional and local level. The impact of weather on destination ski visits is modest compared to the impact it has on daily lift ticket sales which tend to correlate more directly with weather." Garrison further reported that in an informal poll of ski association executives taken last month, skier visits appear to be on track for an average year with an estimated 57 million visits skier days.
The analysis of major economic indicators within the Briefing illustrates the impact that positive economic news has on mountain and ski travel. The Dow Jones Industrial Average, while experiencing its fourth decline in the past 12 months, was still 9.3 percent ahead of one year ago. In contrast, the Consumer Confidence Index (CCI) experienced a dramatic increase to climb over the 100-point mark and to reach its highest level since August 2007.
"A monthly average of 269,000 new jobs have been added for the past 12 months with earnings increasing slightly over two percent during that same time period. Those two variables are helping worker's earnings to outpace inflation for the first time in a long time," explained Tom Foley, operations director for DestiMetrics. "We're seeing those increased earnings and consumer buying power showing up with more frequency and strength as we look at the sustained rate of growth in the travel industry," Foley added.
The January booking pace lends further support to the positive season-end projections. Short-term bookings with reservations made in January for arrival in the same month were up 7.9 percent compared to the same time last year while longer-term bookings made in January for arrival through the end of the season were up a robust 10.8 percent.
"Positive 'snow equity' from last season and a brisk early season booking pace has been sustained through January, despite some erratic weather patterns," observed Garrison.
"The economy also made some significant steps forward in both job creation and consumer confidence and if the weather patterns continue delivering steady doses of snow on a regular basis, we're confident this upward trajectory in mountain bookings will continue and deliver an overall all-time record for revenue in the 2014-15 season," concluded Foley.
*DestiMetrics tracks resort performance in mountain destinations, compiling forward-looking reservation data on a monthly basis and aggregating and reporting the results to subscribers at participating resorts. Data for western resorts is derived from a sample of approximately 290 property management companies in 19 mountain destination communities, representing approximately 27,500 rooms across Colorado, Utah, California, Nevada, Oregon and Wyoming and may not reflect the entire mountain destination travel industry. Results may vary significantly among/between resorts and participating properties.