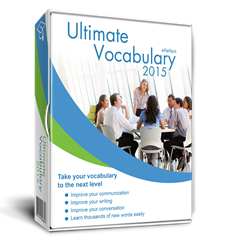 ... customization, user-friendliness, and an interactive, engaging environement through which learning is optimized.
New York City, NY (PRWEB) February 19, 2015
eReflect, an industry leader in educational software, is proud to announce that Top Ten Reviews has published an favorable review of the Ultimate Vocabulary™ software. eReflect is the designer of the vocabulary builder software Ultimate Vocabulary™. In this latest announcement by eReflect, the company notes that the editor at Top Ten Reviews found the program to be worthy of a 9.9/10 rating.
Ultimate Vocabulary™ 2015 is the latest release of this popular program that helps people boost their power vocabulary and communication confidence. The program features new enhancements and tools to make learning streamlined and fun, eReflect states. This is something Top Ten Reviews agrees with. As the editor at Top Ten Reviews explains,
"[T]his vocabulary building application allows you to learn at your own pace and customize your approach to learning new words. Whether you use a PC or a Mac, Ultimate Vocabulary has a host of tools and learning methods to help boost your verbal lexicon, such as flash cards, games and quizzes. It easily wins our Top Ten Reviews Gold Award for the best vocabulary software."
eReflect extends the company's gratitude for this favorable assessment of the program, as it considers Top Ten Reviews a trusted and reliable consumer education organization. To improve vocabulary people need powerful software they can tailor to their needs. Whether a person is an elementary school student, a college graduate, or an older adult looking to improve their vocabulary fluency,
eReflect's vocabulary software offers the tools, motivation, and expert-designed lessons and activities to achieve this goal.
Ultimate Vocabulary™ received the Top Ten Reviews Excellence Award for 2015 in part because it is now a cloud-based application that users can access anywhere, anytime. The creation of a social profile for each user offers new possibilities to the learner; for example, they can share their success on social media, and practice with fellow learners on shared word lists and activities.
eReflect prioritizes customization, user-friendliness, and an interactive, engaging environement through which learning is optimized. As the favorable reviews show, eReflect has met and exceeded their goals in this area.
***********
For more information on how you can benefit from Ultimate Vocabulary, please visit its official website, http://www.ultimatevocabulary.com.
About Ultimate Vocabulary™
Ultimate Vocabulary provides a proven and powerful platform, built to improve anyone's vocabulary.
The interactive self-improvement system provides more learning tools than any other program on the market, as well as more information on words.
The Ultimate Vocabulary software provides each and every user with a personal computer tutor. Providing a step-by-step guide to learning a powerful vocabulary, Ultimate Vocabulary is the learning tool everyone can benefit from.
Of course, the software is also backed by eReflect's iron-clad money back guarantee.