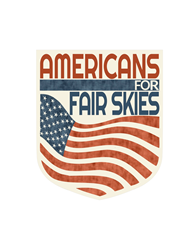 It's time to level the playing field.
Washington, DC (PRWEB) February 18, 2015
Americans for Fair Skies (AfFS) is a group of concerned citizens who have formed a grassroots coalition that is working to level the playing field and restore fairness to the Open Skies agreements the U.S. has with Qatar and the United Arab Emirates.
Americans for Fair Skies' website is http://www.fairskies.org. Here you can sign our petition and learn more about the fight American's for Fair Skies is bringing to Washington to by exploring the facts and watching our white board video.
According to sources including a May 2014 article published by Reuters, The foreign governments of Qatar and the United Arab Emirates are engaging in predatory protectionism by grossly subsidizing their airlines and distorting the international marketplace. Documents obtained by the Australian Financial Review show proof of this. By providing these subsidies, the governments of Qatar are turning the Open Skies policy they agreed to with the United States on its head. In the global marketplace, U.S. airlines and their employees can compete and win if the playing field is level. AfFS is working to restore policies that re-level the playing field against state-subsidized competition from foreign governments and their airlines and to protect the jobs and futures of American aviation workers.
AfFS will be asking the United States government to take action to restore fairness to the skies and ensure a future for the American aviation industry and those who depend on it for their livelihoods by upholding the original intent of the Open Skies agreements with the United Arab Emirates and Qatar and ensuring the Gulf government subsidies end.
Captain Lee Moak, the past President of the Airline Pilots Association International (ALPA), and a commercial airline pilot, is serving as Americans for Fair Skies' President. If there are any questions, or if a media outlet wishes to speak directly with Captain Moak for any follow up, please contact Americans for Fair Skies at americans(at)fairskies(dot)org.
For further information contact:
Michael Robbins, Americans for Fair Skies
americans(at)fairskies(dot)org