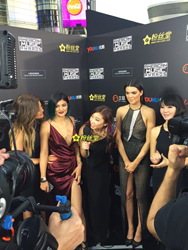 Los Angeles, CA (PRWEB) February 18, 2015
FansTang continues to successfully integrate Chinese culture and fans into many of the world's largest live events, after creating 8 localized experiences, including concerts and awards shows, for Chinese entertainment fans over the past 12 months.
Most recently, FansTang streamed the American Music Awards and People's Choice Awards live into China for the first time and localized each of the shows with its own unique pre-show, red carpet and post-show programming, all supported by FansTang's extensive social media promotion reaching over 100 million Chinese entertainment fans. Furthermore, the American Music Awards achieved nearly 4x the search volume as major Chinese awards show The Huading Awards.
The American Music Awards pulled in over 18 million views, setting a record for any Western entertainment event as a result of the massive promotion and localization. This strategy will be consistently implanted throughout the course of FansTang's long-term partnerships with leading live event content producers and owners, as it continues to work with them to integrate Chinese components into the major events.
"We are extremely proud to help ensure the rapidly growing Chinese entertainment industry and its massive, passionate fan base are integrated and recognized in many of the world's largest events, while helping our partners expand their reach internationally", says Adam Roseman, FansTang's Co-Founder and CEO, "our business strategy is built around utilizing our extensive data analytics to create positive and localized international content and experiences consistent with Chinese culture and policy objectives. 2014 was a record year of growth for us and 2015 is set out to be even stronger, as we grow our self and co-productions, expand our content partnerships and continue to develop our exceptional international team."
About FansTang
FansTang, wholly owned by China Branding Group Limited, is the largest provider of localized international live events content, social media content and non-studio Hollywood and related video content into the China marketplace. FansTang also maintains the most robust international content data platform that services a growing portfolio of major clients including studios, Hollywood agencies, international ad agencies and brands.
For additional information, please visit http://www.chinabrandinggroup.com.