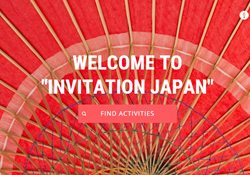 (PRWEB) February 19, 2015
Following the release of Aitabi.jp, an original experience-based event booking site for the Japanese, in September 2014, Invitation Japan Inc. (representative director Hiromi Oba) opened Invitation-Japan.com, an experience-based event booking site for international visitors to Japan.
In 2014, over 13 million tourists visited Japan. The nation expects the market to expand to 20 million by 2020, indicating repeat customers will seek much deeper and more unique experiences in Japan.
In addition to the original guided experience-based events published on Aitabi.jp, the new site selects unique, high-quality service providers, such as Japanese cooking courses, personal shopper services with professional stylists, and walks in Harajuku with fashion journalists, and posts the experience plans for foreign visitors. This mobile-first, UI design site handles last-minute bookings, and the most notable feature is a collection of experience-based events exclusively focusing on Harajyuku, Shibuya, and Aoyama.
Thoroughly covering western Tokyo, a very popular area among foreign visitors for the Meiji Shrine, Harajyuku, Takeshita Street, and Shibuya Crossing among others, the site collects content that allows visitors to enjoy diverse cultural activities in the same area.
Also, Aitabi.jp publishes unique experience-based events and posts them simultaneously on Invitation-Japan.com.
With this, the site offers a new experience matching service where international tourists and Japanese citizens may start meeting by sharing the same experience at the same place.