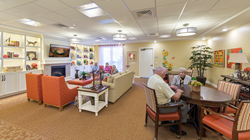 Clarice is very social and she's benefited from the smaller number of residents and the group activities. She also seems to have more energy.
SUN CITY WEST, ARIZ. (PRWEB) February 18, 2015
Before agreeing to move to The Meadows, Sun Health Senior Living's new memory support residence, Clarice Granz sought assurances from her daughter Jay Wenzel that her new digs would have bingo. "That's my game," Granz says.
The Meadows has bingo all right, and much more. The 16-suite residence for people with memory loss (Alzheimer's and related dementia) opened in December, welcoming new residents into a setting that looks nothing like a traditional care center.
It resembles a quaint village with rustic porches in front of each suite, vibrant colors throughout and hall lights that mimic day and night. Residents and family are encouraged to put their stamp on their own suite with familiar furnishings, wall hangings, photos and other mementos that say, "I'm home." The Meadows currently has nine residents.
"It is perfectly suited for my mom who is healthy but forgetful," said Wenzel who lives in Austin. "The level of activity at The Meadows is wonderful. She is getting so much more stimulation." According to Wenzel, her mother's dementia first surfaced five years ago.
Before the move, Granz mostly used a wheelchair to get around on the skilled nursing unit where she lived, just two floors above her new home. Since moving downstairs to The Meadows, Granz is up and walking with the aid of a walker.
Life Enrichment supervisor Tammy Soares enjoys a close bond with Granz. In addition to the progress with walking, she's noticed other positive changes. "Clarice is very social and she's benefited from the smaller number of residents and the group activities. She also seems to have more energy," Soares said.
The architecture and design are important to the overall success of the Meadows but the care of the residents is what sets it apart from similar residences in the Phoenix metro area. Stephanie Rang has worked with memory care residents in a variety of programs over the past 10 years. The licensed practical nurse, who is the lead nurse for The Meadows on day shift, is impressed with the teamwork and versatility of the staff.
"The staffing ratio of caregivers to residents is 1 to 8, which is good. But we also have a med tech, one full-time nurse (Rang) and a full-time activity director on the day shift, which is unusual. It allows us to provide individualized, specialized care," Rang said. "We are able to give lots of one-on-one time to residents and family members."
If residents need more clinical expertise, a nurse practitioner and physician are just a call away.
All staff members pitch in to help where there's a need. For example, all have a food handler card, which enables them to help serve the food. "The food is beyond good. There are so many options for residents," Rang said. Staff members also get involved in encouraging residents to take part in activities, and even leading activities on the weekends.
Many of the activities take place in a dedicated sensory room where Soares leads the residents in exercise, music activities and games that exercise the mind. She uses "It's Never 2 Late," a large touch-screen computer created especially for individuals with physical or mental challenges. It contains everything from trivia games, classic movies and TV programs, to karaoke, exercise videos and email and Skype to help residents stay connected with loved ones. A portable version of the system can be easily moved to other locations on the unit.
Families and friends are welcome to gather in the fully-appointed community living room or in the dining area, which features an open kitchen with counter seating as well as tables and chairs. Out back is a fenced garden with a walking path, shaded seating, a water feature and a raised bed for a community garden.
"Every detail is designed to help residents feel at home, well-cared for and secure in a beautiful environment," said Bhakti Gosalia, executive director of Grandview Terrace and Grandview Care Center where The Meadows is located.
Jay Wenzel feels her mother is in good hands at The Meadows. "I'm very impressed with the top-notch care and attention." Having bingo helps too.
About Sun Health
A long-standing champion for healthy living, nonprofit Sun Health is a community-based health care organization providing "pathways to population health" through philanthropy, senior living, community education and programs, and superior health care. Learn more at http://www.SunHealth.org
# # #