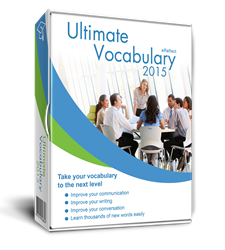 One goal of vocabulary building is to take those words that one merely recognises and start using them actively to communicate more effectively.
New York City, NY (PRWEB) February 23, 2015
Ultimate Vocabulary™ developer, the self-improvement software company eReflect, has just published an overview of third-party assessments of the vocabulary-building software done in 2014. Visitors to the official Ultimate Vocabulary™ blog now get a chance to see what independent review organizations and educational institutions say about the software's ability to improve vocabulary and offer word power to individuals of all ages.
eReflect features the reviews published by Software Review Boffin and Word Buff, both of which provide a positive evaluation of the program and highlight the software's ability to enhance vocabulary fluency through fun activities and interactive vocabulary games.
eTeachersHub, an educational organization, considers Ultimate Vocabulary™ an essential EdTech tool for any classroom. They recommend the software for teachers who want to improve vocabulary instruction through fun and rewarding learning. This educational site offers an in-depth evaluation of the program's features and tools, and discusses its potential to streamline English language literacy whether the user practices at home or at school.
NurturingLearning.org believes that Ultimate Vocabulary™ is an efficient vocabulary building software with the ability to keep learners engaged in its activities and fun games. The reviewer highlights that the program is packed with great features and capabilities which make it a unique vocabulary-building solution at both the classroom and the individual level.
Lastly, another 2014 highlight of the Ultimate Vocabulary™ program is the interview of eReflect's managing director, Marc Slater, by the English Test organization. In this interview, Slater focused on the ultimate aim of his program, and how it incorporates state-of-the-art tools and features to make learning vocabulary both entertaining and efficient. Marc Slater highlights the ways the program manages to make the learner an active, confident vocabulary user, saying, "One goal of vocabulary building is to take those words that one merely recognises and start using them actively to communicate more effectively."
eReflect has recently released Ultimate Vocabulary™ 2015, which has been updated with cloud technology, social media integration, and many other enhancements on top of its existing and highly-praised features.
***********
For more information on how you can benefit from Ultimate Vocabulary, please visit its official website, http://www.ultimatevocabulary.com.
About Ultimate Vocabulary™
Ultimate Vocabulary provides a proven and powerful platform, built to improve anyone's vocabulary.
The interactive self-improvement system provides more learning tools than any other program on the market, as well as more information on words.
The Ultimate Vocabulary software provides each and every user with a personal computer tutor. Providing a step-by-step guide to learning a powerful vocabulary, Ultimate Vocabulary is the learning tool everyone can benefit from.
Of course, the software is also backed by eReflect's iron-clad money back guarantee.