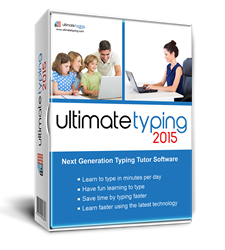 Keyboarding skills are an essential tech skill that everyone has to master, at home, at school, and at work.
New York City, NY (PRWEB) February 24, 2015
eReflect announces the publication of a new review by Mark Ways at Typing Lounge. In this favorable review Ways explains how Ultimate Typing™ helps people overcome bad typing methods and start learning how to touch typing accurately and efficiently. Top keyboarding skills can boost a person's professional performance and make them better users of keyboard-based devices.
Ultimate Typing™ 2015 has been making waves since its release in early January. The program has been enriched with cloud technology that enables learners to practice their typing skills anywhere and anytime: at the office, at home, at the coffee shop, or at the university library.
Ways' evaluation of the software is encapsulated as learning through fun. He believes that Ultimate Typing™ offers a rewarding learning experience to users due to its wide range of fun typing activities and quizzes, as well as its interactive typing games. With Ultimate Typing™, he explains in his review, touch typing isn't boring because the user is motivated to practice and improve due to the user-friendly layout, the compelling lessons, and the addictive games.
As Ways points out, the program is not just for kids. While it can be really helpful in a classroom setting, it's also suitable for corporate environments and for practice by the entire family. Keyboarding skills are an essential tech skill that everyone has to master, at home, at school, and at work. The Typing Lounge founder explains some of the program's main features, like the video instructions and the progress reporting tools. He also stresses the importance of the program's ability to offer users the chance to customize their practice with their own texts, a characteristic that make this particular typing software system stand out from the rest.
Mark Ways gives a near-perfect 9/10 rating for the program. His verdict emphasizes that learning to touch type with Ultimate Typing™ is easy thanks to its intuitive and advanced features and its user-friendly interface. People learning to touch type will have a pleasant and rewarding experience with this software, eReflect believes, something that Ways also believes will come about when the user practices their typing skills with Ultimate Typing™.
*********
For more details on Ultimate Typing™ please visit http://www.ultimatetyping.com/.
For more details on Ultimate Typing™ EDU please visit http://www.ultimatetyping.com/schools.
About Ultimate Typing™
Ultimate Typing™ software is designed specifically for the improvement of typing skills. Created by eReflect, a world leader in e-learning and self-development software, Ultimate Typing™ has been informed by the latest developments in the science of touch typing.
Since its creation in 2006 by Marc Slater, the company has already catered to over 112 countries all over the world, offering products with the latest cutting-edge technology, some of which are among the world's most recognized and awarded in the industry.