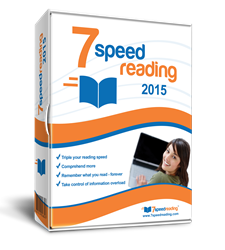 More and more people realize the importance of better reading skills, and are looking for ways to improve their own reading speed.
New York City, NY (PRWEB) February 25, 2015
eReflect revisits important reviews of 7 Speed Reading™ from 2014. A recently published post on the 7 Speed Reading™ official blog provides an overview of the program's review highlights. For eReflect, developer of 7 Speed Reading™ software, such reviews are both revealing and helpful, as they offer a comprehensive overview of a program's strengths and weaknesses. The information is valuable for the company's software development team, and also for people looking for good self-improvement software products.
More and more people realize the importance of better reading skills, and are looking for ways to improve their own reading speed. Proof of this is found in the growing popularity of 7 Speed Reading™, a program that helps people learn to speed read. To help more people understand why speed reading is an essential tool in the data-driven world of the 21st century, eReflect decided to put together a review compilation.
In this compilation, reviewers such as Top Ten Reviews, Spreeder, and Typing Lounge offer their unique takes and honest verdicts on the program's effectiveness in teaching speed reading. As eReflect notes, in their 2014 assessment of the program, Top Ten Reviews highlighted that the program is an industry leader.
The Top Ten Reviews 2014 review landed 7 Speed Reading™ with a 9.95/10 rating and the organization's two most prestigious awards: the Gold Award and the Award of Excellence. Much to eReflect's delight, this favorable evaluation has been repeated in 2015. In the most recent evaluation by Top Ten Reviews, the editor noted, "User friendly, feature rich and effective, 7 Speed Reading is the best speed-reading application on the market."
This rave reviews has been echoed by other organizations. The software program has been praised for its effectiveness and winning combination of features and tools by Typing Lounge and its founder, Mark Ways. According to eReflect's review compilation, Ways emphasized the preeminence of 7 Speed Reading™, stating that no other program on the market can compete with the effectiveness and features that eReflect's program provides.
eReflect encourages the public to research all reviews and carefully read them, as they can offer valuable insights that help consumers make informed purchase decisions on which is the most effective and worthy speed reading program.
************
For more information about the benefits of using 7 Speed Reading, please visit the official website at http://www.7speedreading.com.
About 7 Speed Reading™
7 Speed Reading is the only modern speed reading software that uses the latest technology to produce superior results.
The software provides its users with a new way to master speed reading that guarantees three times the reading speed along with improved memory and comprehension.
The software is poised as the most comprehensive speed reading system anywhere. It contains seven learning strategies, fifteen software activities, video training, advanced tracking capabilities and many more exciting features.