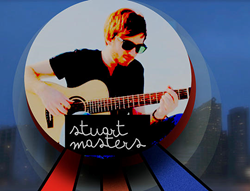 an emerging acoustic master
(PRWEB) February 22, 2015
It's not every day that a 12-string harp guitar player hops on a plane to Northern India for a music video shoot; or to Shanghai, where his performance was requested. These experiences are nothing new to finger-style artist, Folk performer, and this month's featured artist at The Engle, Stuart Masters. Masters uses his guitar, along with the innovative new guitar hammer "The Engle", to produce cross-cultural work that will appeal to international audiences. View Masters perform with The Engle here: http://bit.ly/1G8509x. The England native is influenced predominantly by Western and Indian Classical, as well as Folk and Celtic styles. It's this unique background that combines to create an eclectic and highly creative product.
Masters has been making waves as of late 2013 with his most recent release, "Odonata", as well as his prior release, a collaboration with world-renowned Sarode and Rebab player Rishi Ranjan.
Master's technical approach is truly one-of-a-kind. He plays his 12-string harp guitar, and incorporates looping and double-handed fretting where necessary. A proud endorsee of "The Engle", along with many other pioneers pushing the boundaries of guitar creativity, Masters incorporates the hammer in creating new timbres and notes that flow seamlessly from the strings.
People are noticing. He was described by R2 as "an emerging acoustic master", as well as by Acoustic Magazine as "Spell-binding".
Stuart has many upcoming dates around the world. For a list of full tour dates: http://bit.ly/16BnGSO
To Purchase "The Engle": http://bit.ly/1LhuHra