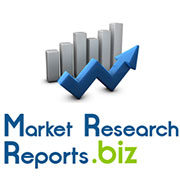 Albany, NY (PRWEB) February 19, 2015
The report provides a descriptive analysis of the key market trends of major companies in the global robot industry, while providing a unique perspective on the China robot industry as well.
According to the facts stated in the report, the global robot industry is flourishing after having achieved record annual sales in 2013. The year's annual sales and ownership chalked up to 178,000 units and 1.332 million units respectively. This was a respective 12.0% and 7.9% year on year.
View Full Report at http://www.marketresearchreports.biz/analysis/243349
The report remarks on the size able concentration of the global robot capacity in Japan, a country which holds 60% of the global share. The top sales markets in the global robot industry are the U.S., Japan, Germany, China, and South Korea. These countries held a combined share of 70.2% in 2013.
The report's detailed section on the China robot industry reveals its inception in 2003 and acceleration in 2010. The country sped beyond Japan to become the world's largest consumer in 2013. The China Robot Industry Alliance (CRIA) analysis indicates that the 2013 industrial robots sales volume for the country were 36,560 units. This amounts to one-fifth of the total global sales volume. The same number was expected to reach 45,000 units by the end of 2014 and more than 100,000 in 2017.
Download Detailed Report With Complete TOC @ http://www.marketresearchreports.biz/sample/sample/243349
The report further investigates the China robot industry, arriving at the conclusion that the country's market is dominated by foreign players, in spite of their preference towards local vendors. Foreign companies sold nearly 27,000 units of industrial robots in China in 2013. This amounted to an estimated 74% of the total volume. Nearly 65% of this majority share was held by KUKA, Yasukawa Electric, FANUC, and ABB. These companies had absolute monopoly of the industrial robot manufacturing and welding divisions along with other high-end fields.
The report continues to provide details on the trends followed by these top players in the China industry. It states that ABB has resumed its ventures in the China market with the inception of 10 new robots. ABB Engineering also landed an agreement for collaborative processes in the field of robotics with Zhongyeda Electric in 2014.
Explore All Published Reports by same Publisher at http://www.marketresearchreports.biz/publisher/67
Yasukawa Electric was a new factory established in 2013 and it brought with it an investment of US$48 million. The company that manufactures robotic systems and industrial robots has an annual capacity of 12,000 robots and 3,000 units.
In 2014, KUKA Robotics China had an annual capacity of 5,000 units, which is a third of the total output of KUKA Robotics.
Kawasaki Precision Machinery Ltd. had begun construction in December 2013. With an initial capacity of 2,000 units per annum, the plant is scheduled to be completed in April 2015.
About MarketResearchReports.biz
Marketresearchreports.biz is the most comprehensive collection of market research reports, supporting clients' market intelligence needs with over 100,000 market research reports, company profiles, data books, and regional market profits in its repository. We also offer consulting support for custom market research needs.
Our document database is updated by the hour, which means that our customers always have access to fresh data spanning over 300 industries. From Fortune 500 companies to SMEs, Marketresearchreports.biz has built a veritable reputation for fulfilling the most exacting market research needs.
Contact:
State Tower
90 State Street,
Suite 700, Albany
NY 12207, United States
Toll Free: 866-997-4948
Email: sales(at)marketresearchreports(dot)biz
Browse Blog at https://businessmonitorinternational.wordpress.com/