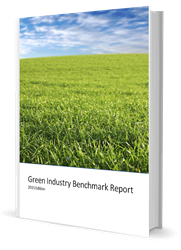 The 2015 Green Industry Benchmark Report delivers insight into how Green Industry Businesses operate.
St. Paul, MN (PRWEB) February 19, 2015
According to a comprehensive report recently released by HindSite Software, green industry businesses have high expectations for 2015. In fact, 82% of respondents expect to grow their revenue in 2015, while 48% expect the economy to improve.
Interestingly, that growth is leading to new business problems. For the first time in three years, marketing isn't the top area in need of improvement for a typical green industry business. Instead, attracting and retaining quality employees is now the primary area in need of improvement. Growth is also leading to inefficiencies, as 16% of respondents indicated their operational inefficiency is the biggest area in need of improvement.
These findings are reported in the 2015 Green Industry Benchmark Report recently released by field service software vendor, HindSite Software. The report is the culmination of a two-month-long surveying effort that reflects the opinions of hundreds of green industry business owners and managers who provide services ranging from landscaping and irrigation maintenance and installation to mowing, fertilizing and snow removal. This is the third year HindSite has released a Green Industry Benchmark Report.
"Green industry businesses typically lack information about how their peers operate," explained HindSite's Marketing Manager, Chad Reinholz. "The Green Industry Benchmark Report delivers insight into how their peers manage their businesses."
Among the key findings:

2014 was a good year for many green industry businesses, as 43% of businesses experienced revenue growth in excess of 10%.
Profitability isn't great in the green industry, with 49% saying profit margins were less than 10% in 2014.
Green industry businesses expect to hire: 73% of respondents plan to add new employees in 2015.
More green industry businesses plan to grow their revenue by adding services (40%) than increasing their territory (14%).
The best way to grow revenue and profitability is to install field service software. Nearly 60% of respondents who used field service software saw revenue grow by more than 10% in 2014, compared to just 35% who don't use software.
Training also corresponds to profitability. 15% of respondents who don't train weren't profitable, compared to 8% of those who schedule recurring training.
Irrigation service and installation and snow removal were listed as the two most profitable services a green industry business can offer.
Expect a price increase if you buy green industry services – 62% of respondents say they expect to raise prices in 2015.
This year's Green Industry Benchmark Report also includes additional sales-related questions, including the biggest sales issue facing an organization, the individual typically responsible for sales, and sales close rates among green industry businesses.
"We've consistently heard that marketing and selling were two areas of interest to green industry business owners," Reinholz said. "As a result, we added a number of questions to help business owners see how their sales process compares to the competition."
The Green Industry Benchmark Report is available free at http://info.hindsitesoftware.com/2015-green-industry-benchmark-report.
About HindSite Software
HindSite Software has helped green industry contractors better manage and grow their businesses with field service management software since 2001. Initially designed as irrigation business software, HindSite today assists service businesses with scheduling and billing (e.g quickbooks scheduling software), contact management, field data collection, and invoicing in QuickBooks® and Sage®. This paperless field service management software has been proven to increase efficiency and organization, meaning greater profit potential with less administrative time.